Case Studies
New Day School
Oregon's First Zero Energy Preschool
New Day School is a preschool in southeast Portland based in Neo-Humanist philosophy, which aims to help children see interconnections and develop deep love and respect for all. The school's curriculum includes yoga and meditation practice, artistic expression, intellectual exploration, and lots of time in the gardens and playground.
In 2018, New Day School hired Green Hammer to complete the renovation of two of its three existing buildings. The first phase was a seismic retrofit as well as energy upgrades, lighting upgrades, and acoustic improvements to the Mahávidyá building (1847 SE Clinton). The second phase was a full transformation of the Kishalay building (1825 SE Clinton) into a net zero energy classroom.
The renovated Kishalay Building offers preschoolers a healthy learning environment that fosters a connection to the outdoors, a sense of community, and a feeling of tranquility and security. "Our goal was to create an ultra-energy-efficient and uplifting learning environment to nurture our students," says Jayagiita New Day School's lead teacher.
After a successful fundraising campaign and grant writing effort, the school purchased a 45.5-kilowatt rooftop photovoltaic array, and New Day became Oregon's first zero energy preschool. With buildings being the largest source of carbon emissions in Portland, the City's existing buildings represent a huge opportunity—not only for making progress on climate action but for improving people's health and achieving cost savings. New Day School has become a model of what's achievable with existing technologies, economic incentives and creativity.
As a value and mission-driven organization, New Day School has always prioritized sustainability and quality. While achieving zero energy in an existing building is a difficult task, both practically and financially, the school was committed to doing all it could to meet that goal.
The Kishalay building's transformation process began in the summer of 2019 with a desconstruction phase led by Lovett Deconstruction. The Lovett team carefully deconstructed the school down to the framing, over half of which was reused in the new structure. By reusing the existing structure, including the slab-on-grade foundation, the overall carbon footprint of the construction project was greatly reduced. The school was also able to reduce overall costs, and put those savings into other sustainability measures that improve student outcomes.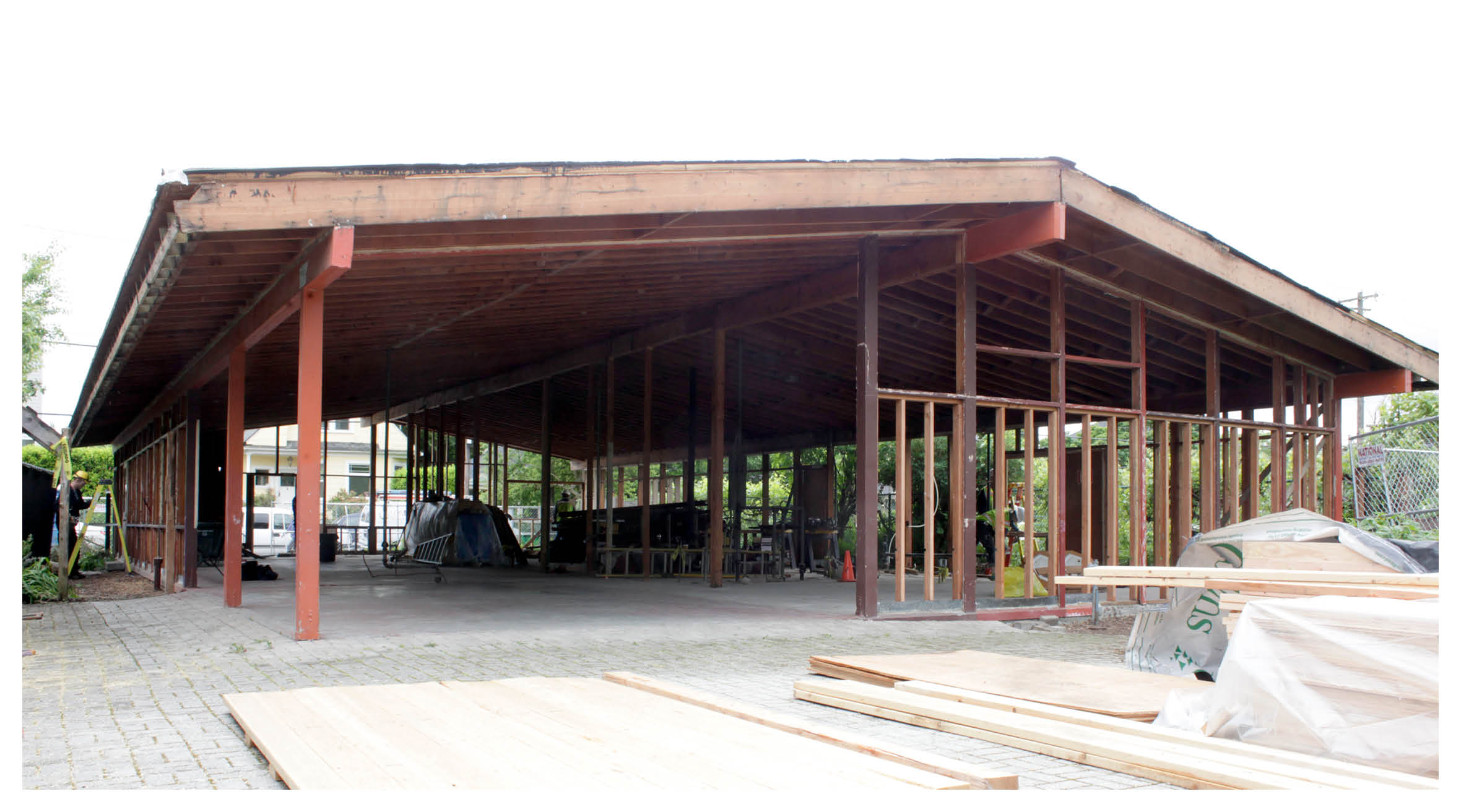 The design intent of the school is five-fold: achieve sustainable design and net zero energy, facilitate security, foster community, connect to the outdoors, and create a sense of tranquility. The design team specified a soft, warm color palette and incorporated curves in the windows, floor patterns and doorways. These kinds of design decisions were inspired by biophilic design principles that recognize humans' innate reverence for natural shapes and forms.
To facilitate security, the orientation of the main hallway 'spine,' along with its internal windows to the classrooms, allows staff to monitor the flow of people while simultaneously inviting ample natural light into the spaces. The Kishalay building was renovated with the natural world in mind, where each classroom has direct outdoor access. The outdoor gardens play an important role at New Day School, allowing the preschoolers to connect to the natural world daily.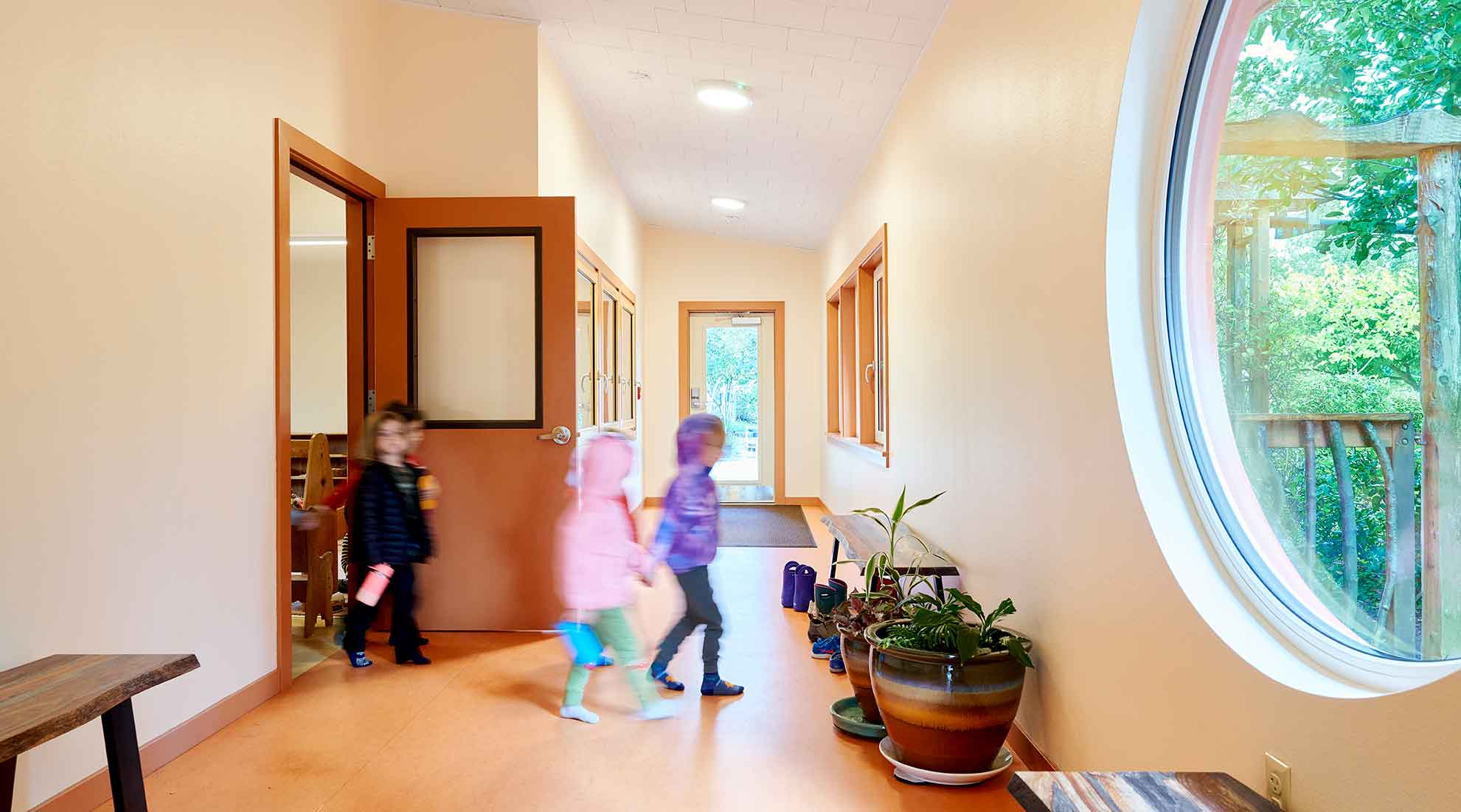 In January of 2020, the students and teachers moved into New Day School's renovated Kinashay building. Due to Covid-19 restrictions, the school operated at half capacity during the 2020-2021 school year. Even with the limited capacity, however, teachers and students alike have enjoyed the purposeful design choices that improved thermal comfort and air quality and reduced outside noise. The school was a sanctuary for students and families during the 2020 wildfire season because the building was so well sealed and the ventilation system could be turned off to keep out the smoke. In its first year of operation, the rooftop solar system provided all the electricity needs for both the Kinashay and Mahávidyá building.
New Day School deliberately chose materials designed for children, such as smaller toilets and sinks. These choices have allowed the children to move throughout the school more independently, as well as create more sanitary conditions, which has become especially important during the pandemic.

This comprehensive whole building renovation inspires students, teachers and parents to learn more about the environmental importance of healthy, zero energy buildings and how they work. New Day School hopes their small renovation inspires other schools around the world to invest in ecologically responsible, resilient, zero-energy buildings in which future generations learn to live harmoniously with nature.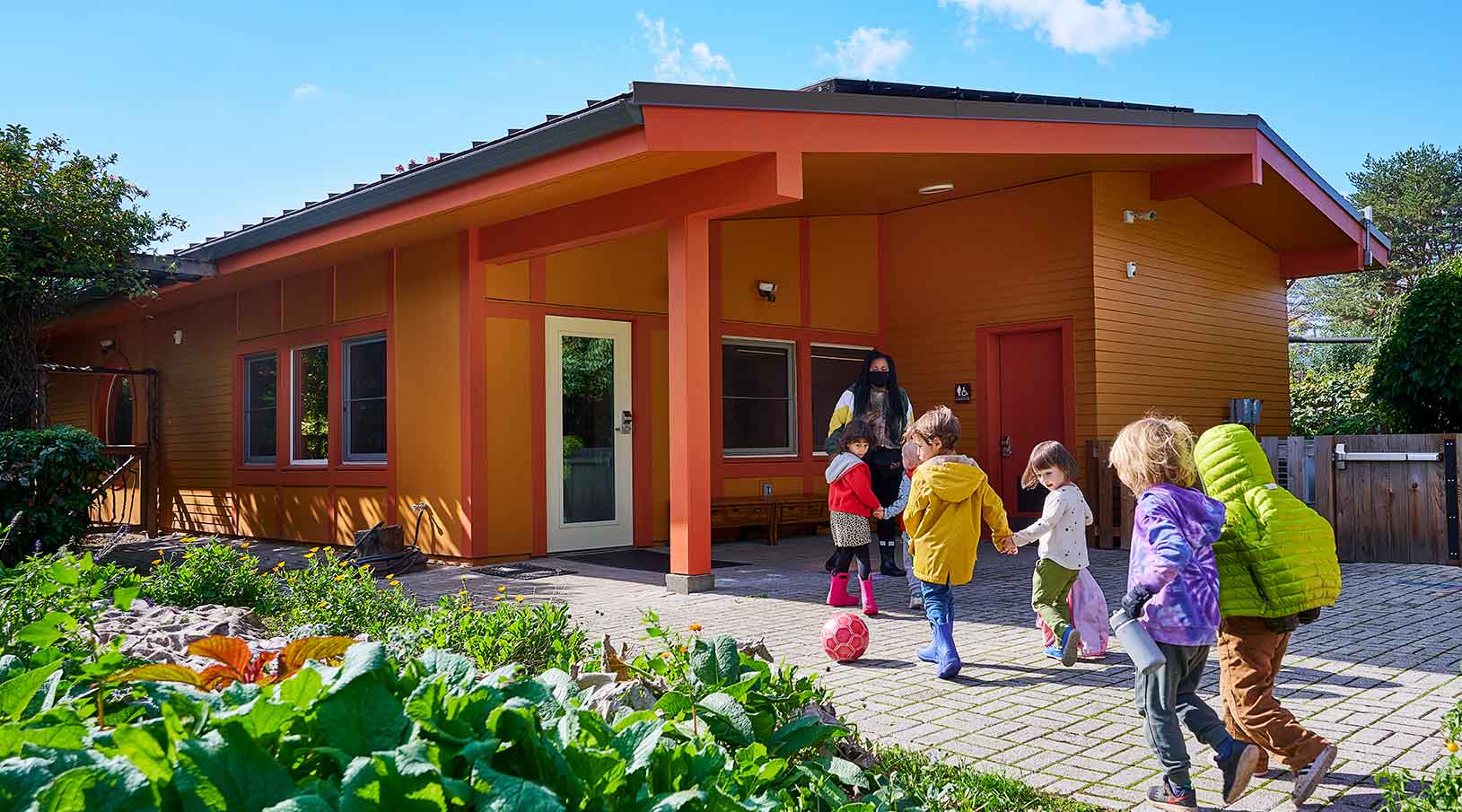 Project Details
Oregon's first zero energy preschool
Architect: Green Hammer
Interior Design: Green Hammer
Engineer: Christopher Pitt at KPFF Engineers
Deconstruction: Lovett Deconstruction
Solar Installer: Synchro Solar
< Previous Case Study
Next Case Study >
Design-build a healthier future.