Case Studies
Cowhorn Vineyard & Garden
Background
Cowhorn Vineyard & Garden is located in Southern Oregon's Applegate Valley near a meandering river and oak forest. One of the first Demeter-certified Biodynamic® commercial farms and estate wineries in the United States, Cowhorn has garnered numerous awards and media attention over the years. Most recently, the 2014 Cowhorn Vineyard Spiral 36 was named to Forbes' Top 10 Best Wines of 2015, their 2012 Cowhorn Syrah 20 made Wine Enthusiast's 2015 Editors Choice awards, and the winery was highlighted in Sunset Magazine's "The Best of Wine Country" issue (October 2015).
When setting out to build a 2,000 square-foot tasting room and case storage area, Bill and Barbara Steele wanted to show the world that sustainable practices and for-profit business are not mutually exclusive. The Steeles and Green Hammer together decided to pursue the Living Building Challenge™, widely considered the world's most rigorous building standard.
Green Hammer's design-build team included Architect, Erica Dunn, AIA, LEED AP; Construction Manager, Mike Liggett; and Certified Passive House and Living Building Challenge Consultant, Alex Boetzel.
Challenge
As its name suggests, achieving Living Building Challenge certification is no easy feat. At the time that Cowhorn received LBC Certification, only 19 projects worldwide had achieved LBC Certification. Cowhorn Vineyard & Garden was the world's first tasting room to earn this achievement and the 20th project to be certified out of over 400 projects worldwide to have registered since 2006.
Approach
Green Hammer's unified design-build process involves a team of in-house experts and a close-knit group of consultants to help clients meet their goals. Of the seven petals that Green Hammer tracked throughout the design-build process, the Materials Petal by far represented the biggest challenge. Green Hammer rigorously reviewed hundreds of building materials — ranging from hardware to drywall — to determine if they were free of "Red-List" materials and bioaccumulative chemicals such as asbestos, lead, mercury, PVC and bisphenol A (BPA).
"Helping Cowhorn achieve the Materials Petal of the Living Building Challenge was "a herculean effort," according to Alex Boetzel, Green Hammer, Chief Operation Officer and Certified Passive House Consultant, who managed the Living Building Challenge certification process for the Cowhorn tasting room and case storage building. "Only those who have actually pursued this standard to its end truly understand just how extremely challenging an effort it is to achieve the Material Petal."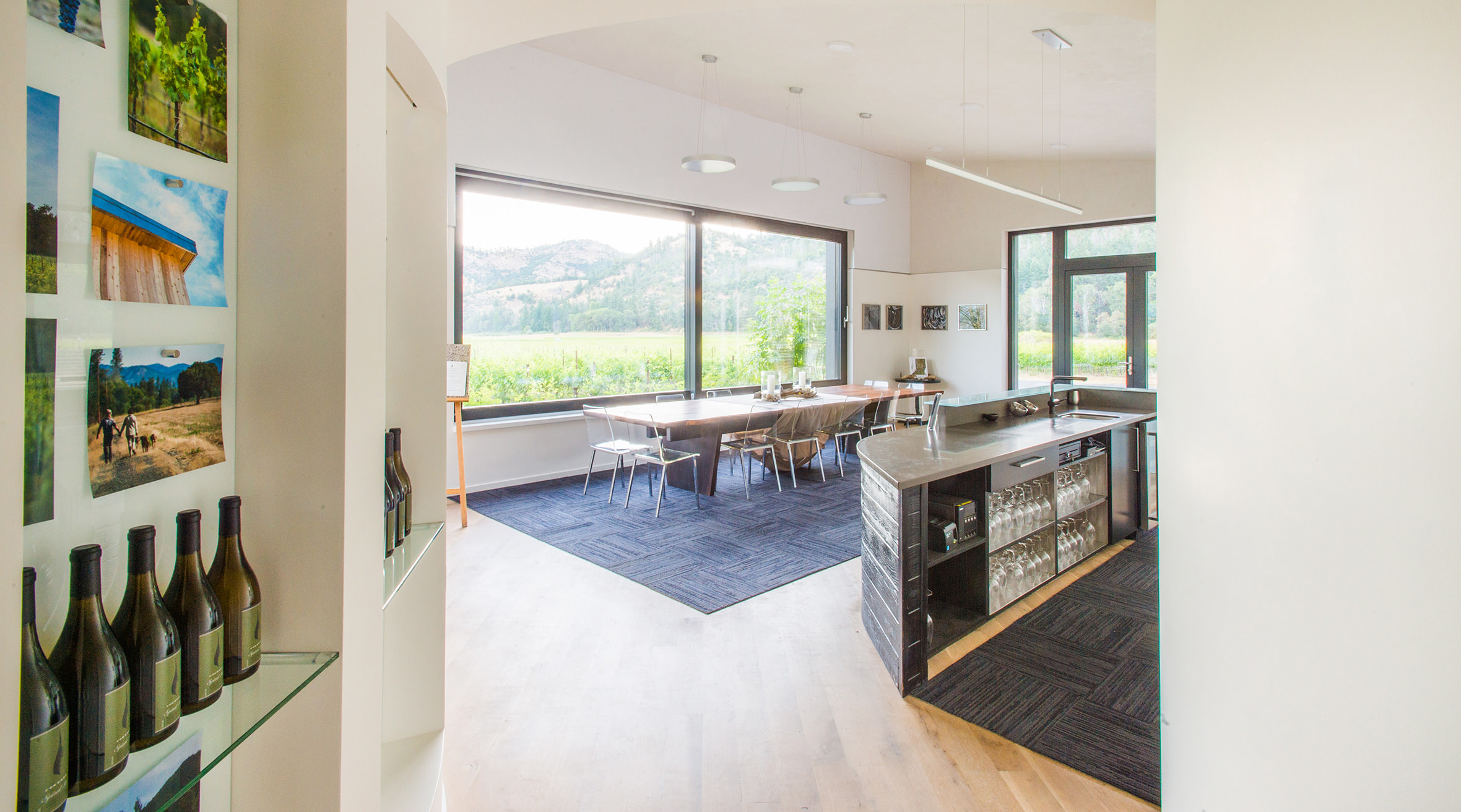 Additional highlights of pursuing the Materials Petal:
Wood, cork, glass, steel and other natural building materials bring outdoor elements into this ultra-high performing building.
Green Hammer worked with Sustainable Northwest Wood to ensure that only Forest Stewardship Council®– certified wood was used in building construction.
Construction waste was massively reduced, and refuse was reused or recycled whenever possible.
The project team accounted the embodied carbon impact of the entire project and purchased carbon offsets for 80 tons of CO2.
Highlights of pursuing the Water Petal:
Cowhorn's water system is an appropriately sized, ecologically closed-loop system, where water is supplied by an on-site well and wastewater is treated on site and restored to the groundwater.
None of Cowhorn's stormwater enters the municipal stormwater system or is purposefully discharged into the river. All stormwater is managed on site through bioswales and drywells.
To reduce its water consumption, the tasting room utilizes low-flow water fixtures and native and drought-resistant plants.
Highlights of pursuing the Energy Petal:
The building incorporates a super-insulated, airtight building envelope, high-performance HVAC systems (including advanced heat recovery ventilation), and 100% LED lighting — all of which help the tasting room and adjacent case storage building minimize their energy loads.
Triple-paned, gas-filled windows meet the standards of Passive House Institute US and Passive House International.
With a heat pump water heater, Cowhorn utilizes the most efficient water-heating technology available today
The installation of a 15.96 kW photovoltaic system helps ensure the tasting room and adjacent case storage building produce more energy than they consume.
Highlights of pursuing the Equity Petal:
Cowhorn Vineyard & Garden Tasting Room is situated in the middle of a stunning working farm. Everyone is welcome and efforts are made to accommodate them.
A bench along the main road allows cyclists and others to take a break and enjoy looking at the project.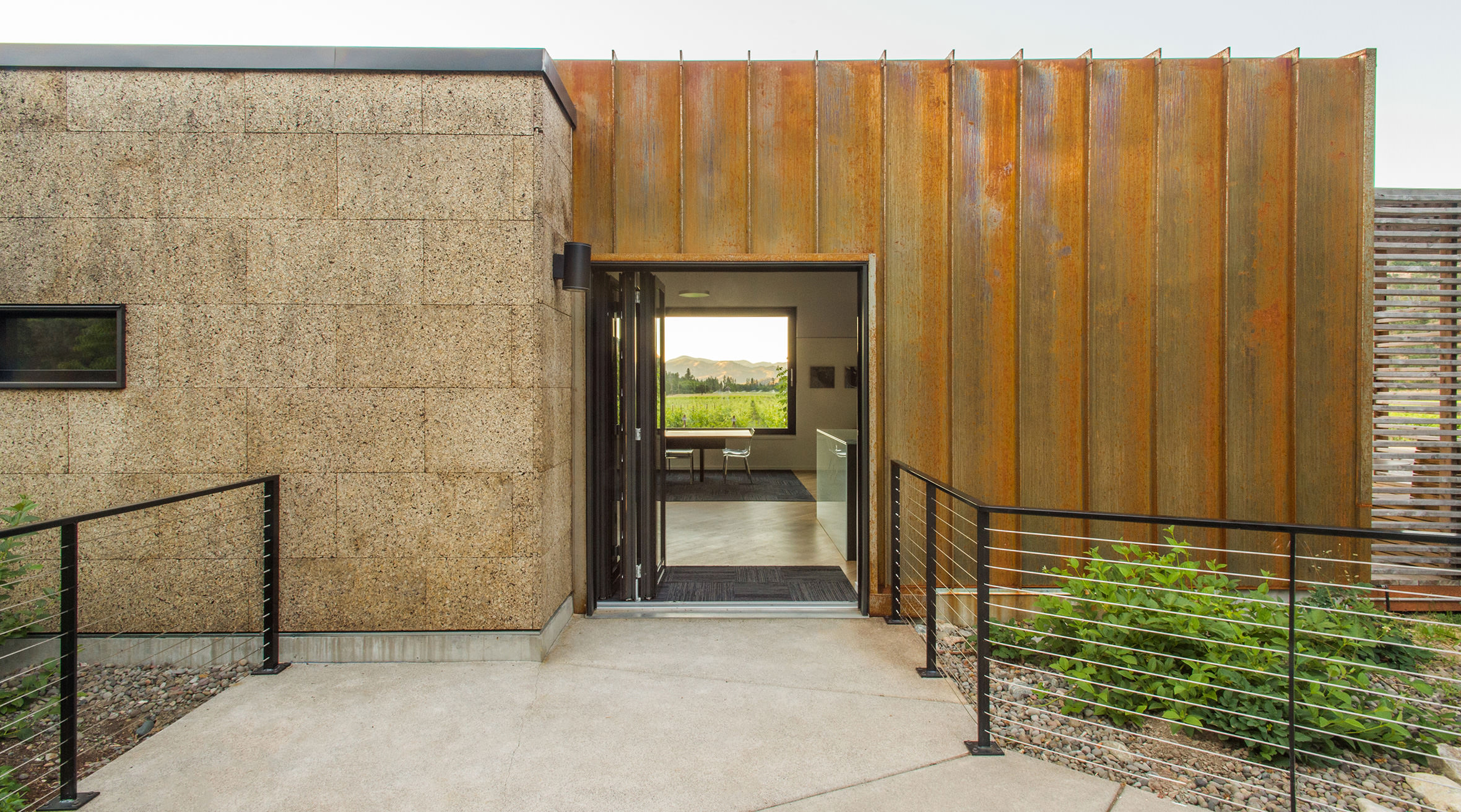 Highlights of pursuing the Beauty Petal:
Sited between the winery, vineyard, pump house and sheds, the new tasting room provides stunning views of the vineyard and gardens and the surrounding hills and places patrons at the center of this farm, giving them an up close and personal look at Cowhorn's sustainable approach to growing grapes and producing exceptional wine.
Akin to the wine it houses, the tasting room is a physical expression and celebration of the beauty of the Applegate Valley.
Highlights of pursuing the Health & Happiness Petal:
The building's ventilation and heating systems provide exceptional indoor air quality. The building encourages people to gather together.
Results
Cowhorn's new tasting room and cold storage area opened in June 2016. Green Hammer estimates that pursuing Living Building Challenge™ certification involved thousands of hours of research and documentation, especially related to the Materials Petal.
Achieving Living Building Challenge Certification is a long journey, and it doesn't end when the lights go on and the doors open to the public. To achieve the Water and Energy Petals, the tasting room must produce more energy than it uses and supply all its own water needs through an onsite closed-loop system for at least 12 consecutive months after taking occupancy. To achieve the Health & Happiness Petal, the exceptional quality of the indoor air, achieved through material selection and ventilation must be confirmed multiple times before and after occupancy.
Go here to read more about Cowhorn Vineyard & Garden's Living Building Challenge Certification.
< Previous Case Study
Next Case Study >
Design-build a healthier future.