Blog
The Breathe Building Pursues Living Building Challenge
7.9.13
Green Hammer is thrilled to be working with The Breathe Building owner, Chris Calarco, and Yoga Union on the design and build-out of a new community wellness center near Yoga Union's current yoga studio on SE 50th Avenue and SE Division Street in Portland. The team is pursuing the Living Building Challenge (LBC), the world's most stringent green building standard.
The LBC calls for the creation of building projects at all scales to operate as cleanly, beautifully and efficiently as possible, mimicking nature's architecture. To achieve LBC certification, a project must achieve seven "petals"- including net-zero energy, waste and water- over a minimum of 12 months of continuous occupancy.
Full LBC certification is the ultimate goal, but projects can pursue "petal recognition" by satisfying the requirements of three or more "petals." While the project is still in the design phase, Yoga Union will likely pursue the Materials petal, as well as Beauty, Equity and Site.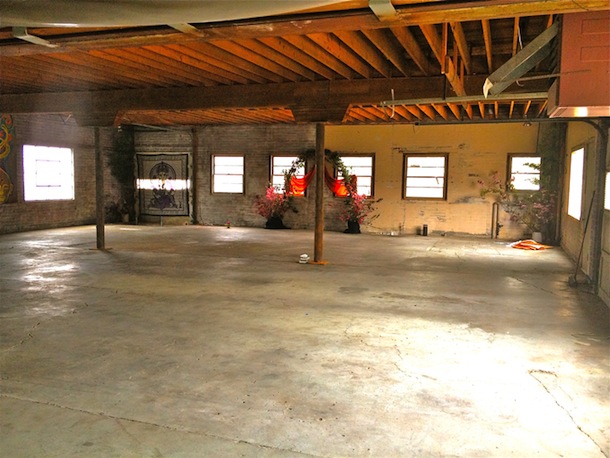 Photo courtesy of Todd Vogt, Yoga Union
"One of the bigger goals of the Living Building Challenge is to inspire market transformation," says Alex Boetzel, Green Hammer's Chief Innovation Officer. According to Boetzel, the project team is committed to following LBC's stringent requirements, eliminating red-listed materials and sourcing locally and responsibly. "This is great for the environment, the building occupants and the local economy," he says.
Yoga Union's future home is a 8,500-square-foot industrial building, which will be transformed into a community wellness center that will include yoga and movement studios, an event space, child care center for members, a café, a green roof and a complete wellness center with naturopaths, massage therapists, yoga therapists, acupuncture and more.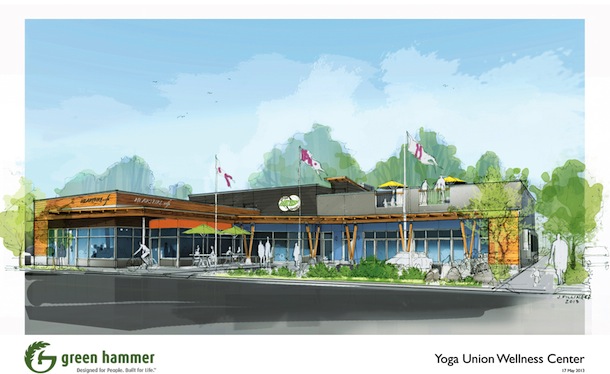 Todd Vogt and Annie Adamson, co-owners of Yoga Union, say they want the new space to reflect the people who come to Yoga Union. "The space will be open and humble so people can feel comfortable with their health and inspired to improve it," Vogt says. "It will continue to provide the sense of community and intimacy that Portland loves."
Adamson adds that the wellness center will be a multi-generational gathering space that includes "something for everyone."
Chris Calarco, a Yoga Union teacher and the building owner, says he hopes the wellness center can serve as a demonstration project for other mixed-use remodels. "There is no roadmap for this type of diverse mixed-use renovation in conjunction with these green building standards," he says. "We will learn a lot in this process and we will have a lot of things to share."
"The project will be a wonderful example of a healthy and sustainable way to reuse a building," Boetzel says. "Green Hammer is looking forward to playing an integral role in steering the project toward the Living Building Challenge goals.
Check back for updates on the progression of the new Yoga Union Wellness Center, or sign up for our newsletter HERE.
Learn more about Yoga Union at http://yogaunioncwc.com
Save