Blog
Tillamook Row Nears Completion, Now Leasing
9.3.18
Tillamook Row, a 16-unit Zero Energy community with shared amenities in Portland, Oregon, is now leasing.
Developed by BCMC Properties and designed and built by Green Hammer, Tillamook Row is the first Zero Energy multi-family residential project in Portland, Oregon to serve renters. It includes five buildings — a mix of owner and renter units with front porches and balconies oriented around a central courtyard. All five buildings were designed using Passive House standards and modeling to meet Zero Energy goals, meaning the buildings will produce all or more of their energy needs from an 82-kilowatt solar array. Tillamook Row includes a 2,000-square-foot common house that is open to all tenants to use as a place to share meals, exercise and host gatherings. There's also on-site parking with electric vehicle charging stations, a storage building and an additional bike garage.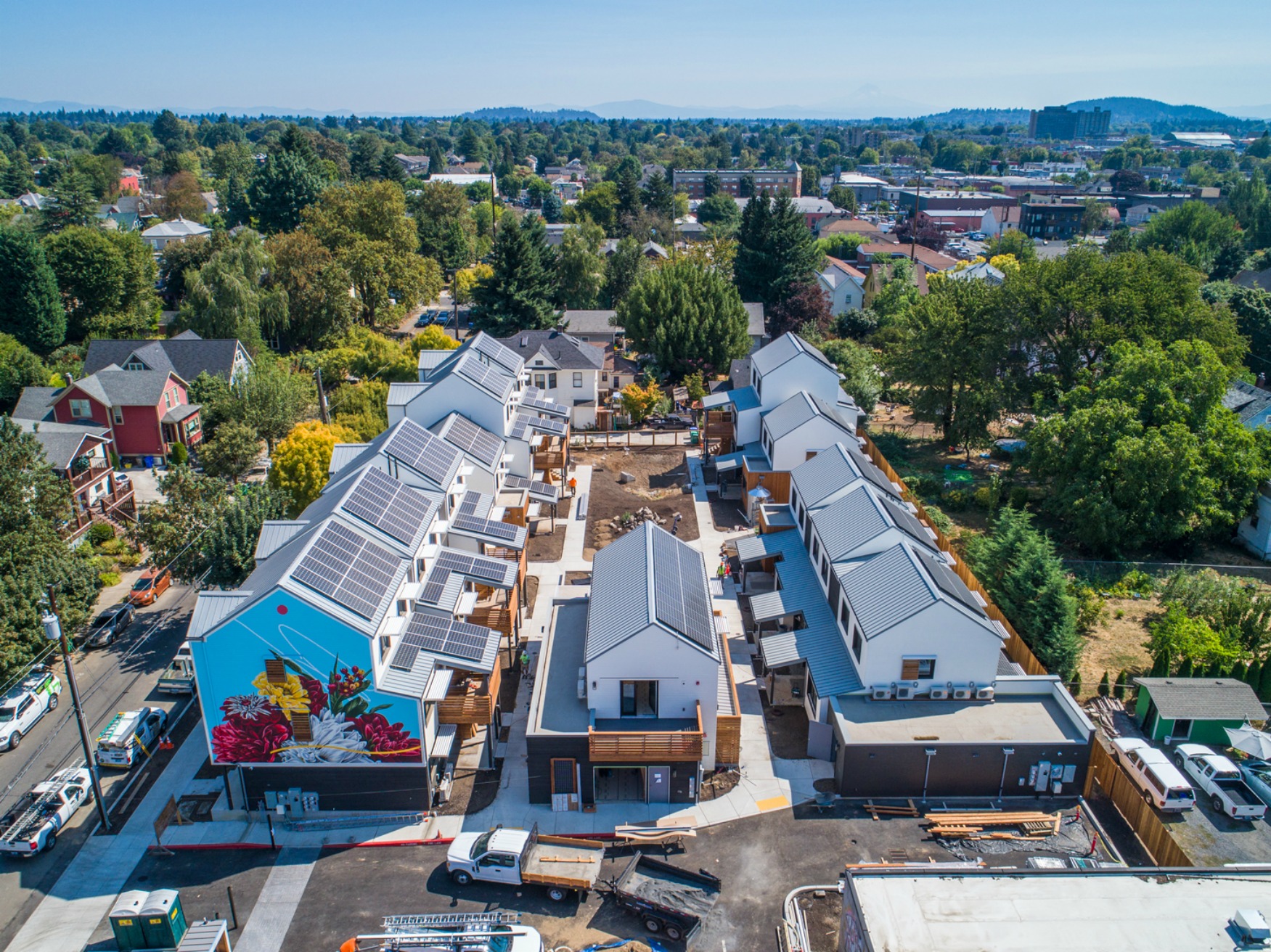 The units at Tillamook Row range from 750 square-foot 1-bedroom, 1-bath townhomes to 1,430 square-foot 4-bedroom, 2-bath townhomes, allowing for people of all ages and different family sizes to live there. The project is just three miles from downtown Portland and within walking distance of public transit, medical facilities, grocery stores, restaurants and other amenities.
"Net zero energy buildings are the most cost-effective and immediately available strategy for lowering greenhouse gas emissions in the built environment. By proving that we can achieve net zero energy in a multi-family residential project, we hope that we can bring down the cost to build net zero energy homes," says Andrew Woodburn, Manager, BCMC Properties.
A Community Designed to Produce All Of Its Own Power
An 82-kilowatt rooftop solar system installed by Imagine Energy is spread out among the five buildings and is expected to produce, on average, enough energy to power the entire community.
A battery backup system on the common house can store power generated from the rooftop solar system, allowing the building to serve as a resiliency center for the entire neighborhood in the case of a power outage.
Each unit also has a dedicated plug that allows residents to pull electricity directly from the PV system in the event of a blackout.
A Community Designed to Minimize Environmental Impacts
The buildings incorporate a super-insulated, airtight building envelope for improved comfort that reduces the heating and cooling load by nearly 90%. The high-performance envelope allows the units to use low-load and high-performance mini-split HVAC systems for heating and cooling.
Each home has fresh filtered air continuously supplied to bedrooms and living spaces and extracted from bathrooms and kitchens through heat recovery ventilators resulting in excellent indoor air quality.
State-of-the-art, energy-efficient, transcritical hot water heat pumps are used to cut water energy use down by half from the next highest performance options currently on the market. A transcritical heat pump uses CO2 as the refrigerant, which also reduces the global warming potential of the system as compared to standard refrigerants.
LED lighting and ENERGY STAR appliances throughout significantly reduce energy use.
All buildings have triple-paned, tilt-turn operable windows for improved comfort and performance that also block out sound while allowing for plenty of natural light and fresh air.
Green Guard- and Living Building Declare-certified materials used throughout dramatically reduce potentially harmful chemicals in each home.
Hard surface flooring does not harbor dust mites, mold, household dust and debris, or harmful chemicals that can off-gas into the home over time.
Advanced framing techniques reduce lumber use by 15% and reduce insulation voids, increasing energy efficiency.
A rain-screen wall system increases the longevity of materials by preventing moisture from entering the wall cavity.
Water sense certified showerheads, faucets and toilets significantly reduce water and energy use.
Three large rain cisterns have a capacity to store 3,600 gallons of water, which is expected to be enough water to irrigate the community's garden and much of its landscaping needs year-round.
Learn More
To see floor plans, availability and apply to live at Tillamook Row, visit tillamookrow.com.