Blog
Going Wild Over Nature Playscapes
10.15.15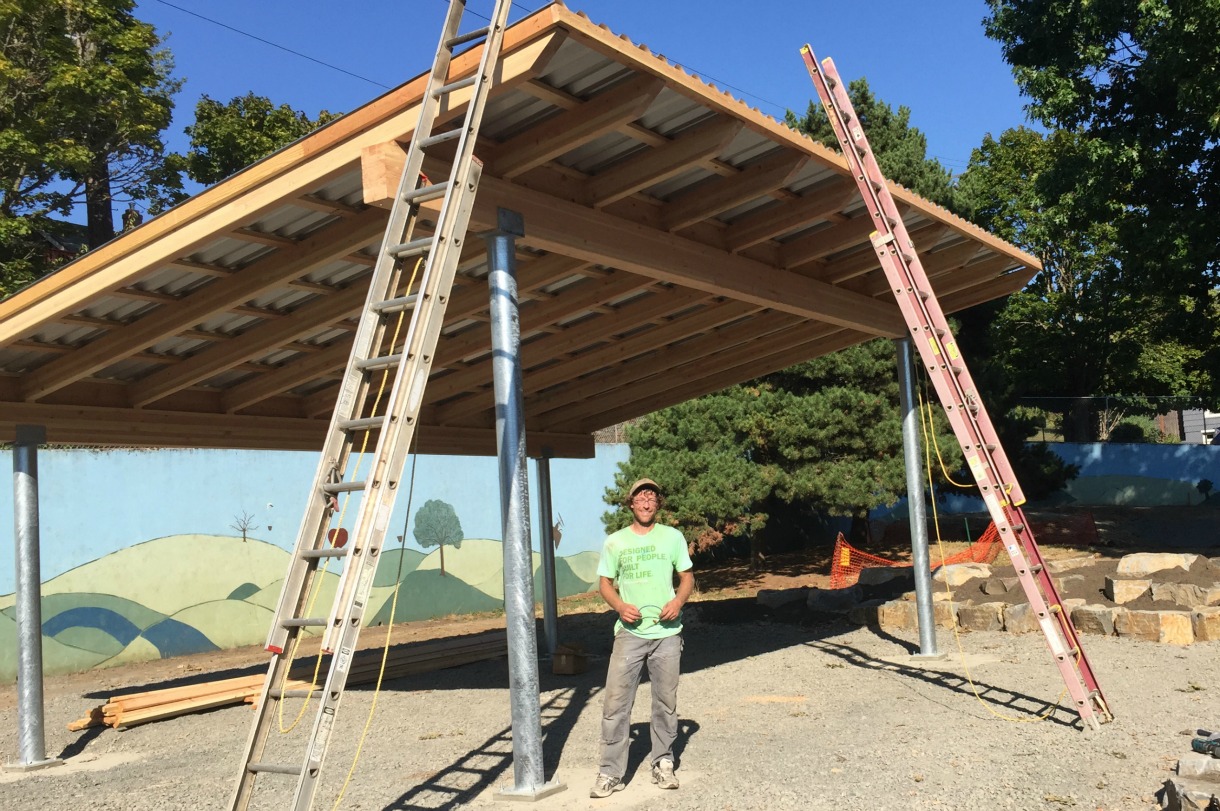 Green Hammer carpenter, Dave Shiel, helps build an outdoor learning area at Sabin School.
Last year, Green Hammer co-sponsored a screening of the film, Project Wild Thing, as a way to raise awareness about the important role that nature plays in our lives and the lives of our children. The film inspired many of us to find ways to help our children spend less time looking at screens and more time connecting with the natural world.
That's why, when Green Hammer heard Sabin K-8 School in Northeast Portland needed help building a nature-based learning area and play space, the company was more than happy to help. "Naturally, we wanted to help create an outdoor space where kids can get wild and learn!," says Stephen Aiguier, Green Hammer CEO. His daughter, Olive, is a first grader at Sabin.
Over the last few weeks, Green Hammer staff Davey Beacom, Dave Shiel, Les Cox, Mike Liggett and Natalie Luttrell, along with a group of Sabin parents led by Ronnie Boicourt, have been hard at work building a covered structure that will allow teachers to facilitate lessons outside, even when it's raining.
The entire play area is designed to encourage open-ended, imaginative play and encourages kids and adults alike to reconnect with nature. It incorporates native plants, rolling berms, boulders, logs, an amphitheater and stage, and winding paths.
"Kids learn better and engage more with one another when they're in the natural world," says Michelle Mathis, a landscape architect with Learning Landscapes and the designer behind the Sabin project. "Nature playscapes like the one at Sabin encourage physical play, allowing kids to blow off steam; but they also support creative and cooperative play that's lacking in traditional playgrounds."
Sabin's nature-based playground is one of the first constructed in partnership with the Portland Public School (PPS) District, and just one of a few in the entire city of Portland, according to Mathis. Mathis, along with GreenWorks PC, was part of the design team for the Westmoreland nature-based play project for Portland Parks and Recreation.
The Sabin School playground renovation project is being led by Sabin PTA parent volunteers and funded by donations from Sabin school community members ($65K), PPS ($20K), and grants from East Multnomah Soil and Water Conservation District ($10K), Lowe's ($4,500), and the Sabin Community Association ($500). Many other community businesses like Green Hammer have also donated and/or discounted both materials and services.
The hope is that the entire community feels invested in creating a fun and safe playground and in turn, will want to use it, says Deb Pleva, a volunteer project manager and Sabin parent. "For us, this isn't just a playground. This is a community touch point," she says "The more enticing these types of place are, the more families will want to gather in these places, and the stronger our community will become."
> Watch the Portland PPS video about Sabin's nature park.