Blog
RMI Innovation Center sets air tightness record
1.21.16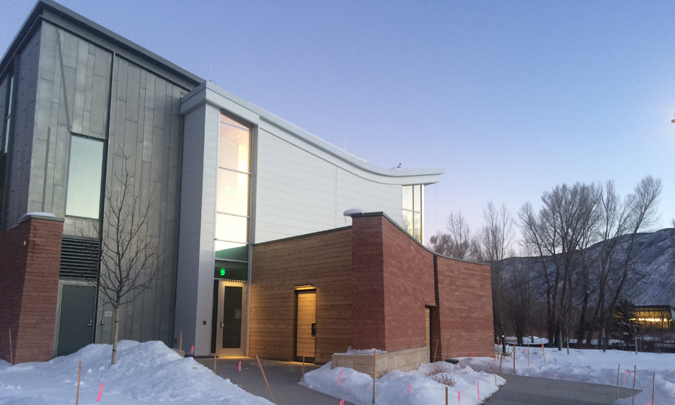 Rocky Mountain Institute's new Innovation Center achieved the lowest air leakage values ever recorded in the U.S. Photo by Betsy After, RMI.
Last week, the Rocky Mountain Institute (RMI) Innovation Center was presented with Passive House Institute US + Certification. The building achieved one of the lowest air leakage values ever recorded for any building in the United States (0.36 ACH50 compared to the PH limit of 0.6 ACH50). Congratulations to Green Hammer's Alex Boetzel and Dylan Lamar, who provided ZGF Architects with air-sealing consultation throughout the design and construction phases of this ground-breaking project. Achieving this level of airtightness is an important step toward accomplishing the building's net zero energy goals.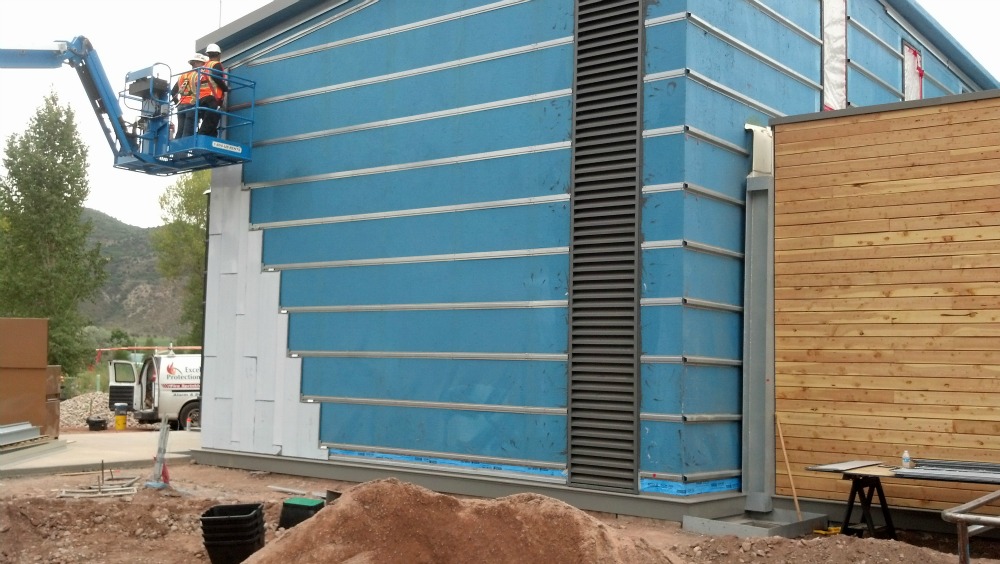 Construction workers install cladding over the blue liquid-applied membrane that acts as both a weather barrier and air barrier. Air barrier continuity around the building was carefully planned and detailed. Photo by ZGF Architects.
The Innovation Center, located in Basalt, Colorado, is a 15,600-square-foot office building and state-of-the-art convening center, completed in December 2015. It's the largest office building in the United States to achieve Passive House Institute US + Certification and one of the few certified office buildings in the United States (the CAPACES Institute is among them).
With a mission to drive the efficient and restorative use of resources, RMI developed the Innovation Center to demonstrate how deep green buildings are designed, contracted, constructed and occupied. Pursuing the the most aggressive airtightness standard — and exceeding it by a factor of two — did not require new technologies. It required good design and careful attention to detail during the construction phase.
"The Innovation Center is not about technology, but about design. This building achieves beyond net-zero energy because we have gotten better at choosing and combining technologies to maximize building performance."
— Amory Lovins, RMI Cofounder, Chief Scientist and Chairman Emeritus
Other Project Highlights
Achieves net-zero energy, producing more energy on site annually than it consumes — one of only 200 buildings in the U.S. to achieve this distinction as of 2015.

Is the most energy-efficient building in the coldest climate zone in North America, with an energy use intensity (EUI) of 17.2 kBtu/sf.

Has aggressive Passive design measures, which enabled the elimination of mechanical cooling and reduced mechanical heating to a small, distributed system equivalent to roughly 16 hairdryers.

Uses 74% less energy than the average office building in this climate, as determined by Energy Star Earns all 19 LEED energy points.

Meets the architecture-2030 goal of a 70% energy reduction, even before the solar-electric system is accounted for. Is powered by a 83 kW solar-electric system generates enough power for the building plus five electric vehicles — around 117,000 kWh each year. A 40 kW battery storage system reduces the building's peak energy demand, which helps us stay below a peak demand of 50 kW, which keeps us in the small-commercial rate class.
Go here to learn more about the Innovation Center, and go here to learn why air-tightness is so critical for achieving net zero energy.