Blog
Finding value in post-occupancy energy evaluation
1.2.14
During a recent cold snap, Oregonians got a dose of the Midwest when temperatures dipped into the single digits for multiple days in a row. The artic blast led to the opening of emergency homeless shelters, the cancellation of holiday parades, and an onslaught of work for regional plumbers. As some homeowners scrambled to prevent pipes from bursting, others were putting their heating systems to the ultimate test (for Oregon anyway).
The Green Hammer team received a blessing-in-disguise when the frigid temps caused a state-of-the-art heating system to malfunction at the site of one of our former projects — a LEED-Gold-certified home in Estacada. We investigated the problem and discovered that the heating system had a simple, yet dramatic issue: One of the controls in its complex system of plumbing, wiring and electrical controls was malfunctioning. The periodic malfunction dramatically impacted the performance of the system, causing it to consume nearly three times the amount of energy it had been designed to use. We assume it had been malfunctioning ever since its original installation in 2006. But the homeowners had no way of knowing this because no energy monitoring system was in place and no post-occupancy energy data evaluation had ever been completed.
There are numerous reasons why buildings don't perform as designed. Sometimes it's an engineering problem or an installation error. More often than not, though, the building occupants behave differently than the building designers expected them to: They are taking more hot showers, doing more laundry or using more electronic devices than the designers anticipated. In some cases, the building occupants are simply forcing systems to do things they were not designed to do — and wasting considerable amounts of energy in the process. Analyzing building performance is not nearly as sexy as architectural drawings or new appliances or a rooftop solar system. But, as demonstrated by the examples above, the value to designers, builders, equipment manufacturers, installers and building occupants is immeasurable.
In our experience, even the most motivated building owners rarely choose to invest in building monitoring systems or post-occupancy evaluations. It's one of the first things to get cut from the budget. Systems range dramatically in price, depending on the options and whether or not the system install is self-performed or done by a licensed professional. But when you see how much the data from a monitoring system professionally installed for $2,000 can reveal about performance and occupant behaviors, the results – and the return on investment – are tremendous.
Energy conservation in buildings is a complex optimization of insulation, air-tightness, building performance systems and occupant behaviors. The building industry has done an incredible job in recent years improving building envelope and system performance. A new high-performance building gets filled with appliances, heating and cooling equipment, ventilation systems, and various control devices. But imagine if just one of those systems is malfunctioning. Without a professional analyzing the energy use data, the problem can go undetected for years, leading to wasted energy and money.
Energy monitoring and post-occupancy data evaluations allow occupants to make changes in real time that can dramatically improve their experience within their building as well as their pocketbook. It's time that we tackle those post-occupancy energy gremlins haunting our buildings in ways never intended. Information is power and, in this case, the conservation of countless kilowatt-hours.
If you are considering investing in an energy monitoring system, check out a couple of my personal favorites. They include eGauge Energy Monitoring Solutions and a similar system called eMonitor. The eMonitor has both a residential and commercial product, has fantastic versatility, and can tie in with other air-quality and building-system analysis. The images below provide snapshots of the eMonitor product.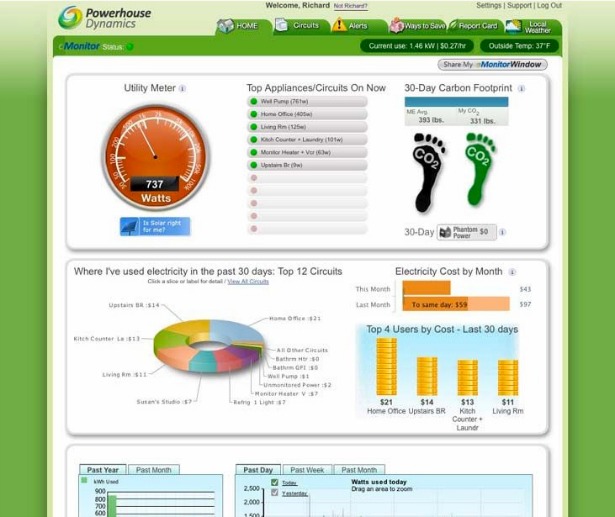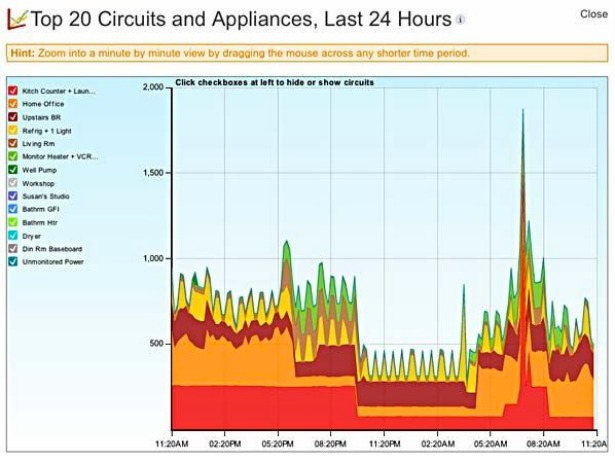 A shortened version of this post appears on the Daily Journal of Commerce's "Innovative Insights" column.