Blog
Net Zero Energy: Build Small, Live Large
9.30.15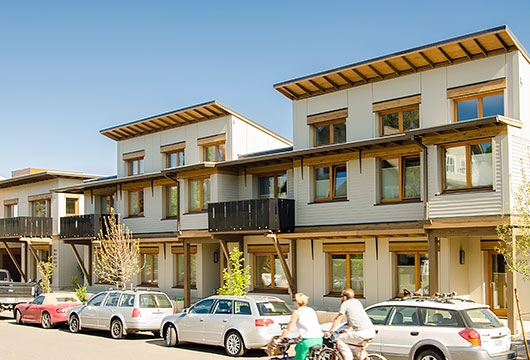 Ankeny Row is a net-zero-energy cohousing project designed and built by Green Hammer and completed in 2015.
Interested in designing and building your own small-scale home or community? The Build Small, Live Large Conference is a unique event where attendees can learn about every type of small home — including ADUs, small house communities, tiny homes on wheels and everything in-between — all in one place and one day.
Set for Friday, November 6, 2015 at Portland State University, Build Small Live Large is for homeowners, designers, builders, planners and others interested in learning about things to consider when pursuing a small home.
Green Hammer CEO, Stephen Aiguier, is speaking on the panel Net Zero – Challenges and Opportunities for Sustainable Small Homes. Pat Lando, Principal, Lando and Associates and Brad Hippert, CEO, Equity Atlas, are also on the panel. These three experts in the field of net zero energy, water and financing will discuss how to design, build and finance small homes that harvest all of their own energy and water, and process their own nutrients to truly live sustainably and within an equitable share of earth's carrying capacity. Learn more.