Blog
New Era for Missing Middle Housing
1.19.17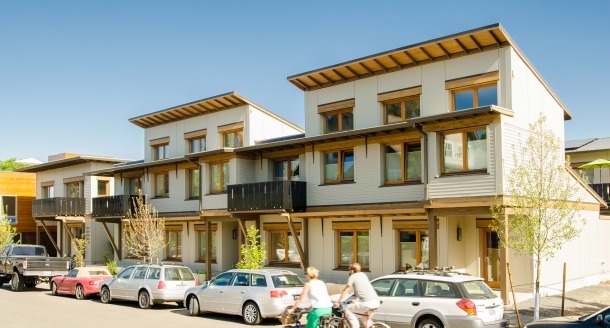 Ankeny Row is an urban infill development in SE Portland created by seven retired couples and designed and built by Green Hammer.
Here in Oregon and around the country, planners and policy makers are facing mounting concerns over housing availability and the need for various housing types. From July 2014 to 2015, the Portland metropolitan area grew by 111 people a day, according to the Census Bureau estimates. Portland's population of senior citizens grew by 17.4 percent from 2010 to 2014, the fourth-highest rate of any major metropolitan area.
Over the next 20 years, about a quarter million more people will join the roughly 620,000 Portlanders who are already here, according to the Portland Bureau of Planning and Sustainability. But where will they live and work?
At Green Hammer, our unified design team is poised to help developers meet an increasing demand for multi-family housing types of all kinds. From new market-rate townhomes on NE Tillamook Avenue to independent senior living residences at Rose Villa, we are helping developers integrate high-performance home design into large-scale projects. By incorporating Passive House design principles into all of our projects, we create healthy buildings designed to last multiple generations while increasing the comfort and reducing the living costs for those who reside there. Even more, we're encouraging people who live in these urban multi-family buildings to walk, bike or take public transit, connect with their neighbors, utilize public parks and more.
These happen to be the same outcomes of missing middle housing—a term coined by Daniel Parolek of Opticos Design, Inc. in 2010 to define a range of multi-unit or clustered housing types—such as duplexes, fourplexes and bungalow courts—compatible in scale with single-family homes that help meet the growing demand for walkable urban living. Last fall, many Green Hammer staff participated in the Missing Middle Housing Tour and panel discussion in Portland hosted by AARP, 1000 Friends of Oregon, Portland for Everyone and Urban Land Institute. We enjoyed this engaging discussion about housing, land use and creating communities for all ages.
The benefits of missing middle housing include affordability, convenience, access to vital amenities, and more housing choices. Go here to learn more about the city of Portland's commitment to supporting missing middle housing.
In the years ahead, we look forward to continuing to work with developers, like those of Ankeny Row, on creative solutions to Portland's growing housing needs. Please reach out if you'd like to talk about your own project.