Blog
The Missing Energy Link
7.11.14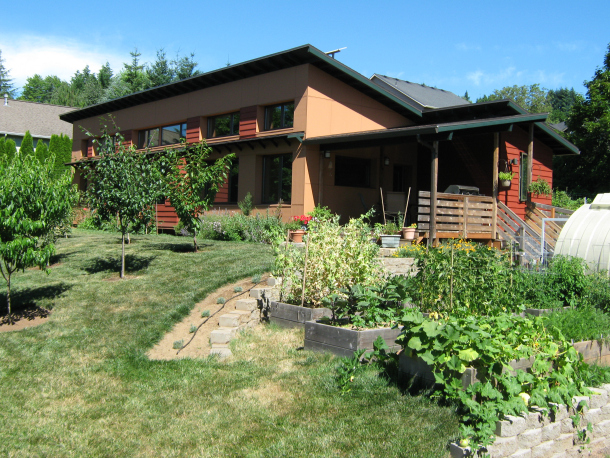 Passionate homeowners demonstrate the value of energy monitoring.
When Lynne Taccogna and Bob Donough set out to build a custom home where they could age in place, there was no question that the home would be a reflection of their values. Having spent more than a decade living in an off-the-grid Earthship home in New Mexico, the couple had become quite committed to energy and water conservation. Built into the side of a mountain, the house design took advantage of the constant 55°F to 60°F temperature five feet below the earth's surface for heat in winter and cooling in summer. Solar heat was absorbed and stored by thermal mass – tires filled with dirt in this case. They regularly hauled propane for cooking and supplemental hot water, and relied on a rainwater catchment system for all water needs. A small 750-watt off-grid solar system supplied all of their electrical power. "We faced constant challenges living there, but it was a beautiful place to live," said Bob Donough. "And we learned a lot about what we wanted and didn't want in a house."
After Bob retired, the couple decided to move to Dundee, Ore., to be closer to family. Working with Green Hammer's Certified Passive House Consultants, the couple made the decision to pursue the Passive House standard. Passive Houses are very well insulated, are virtually air-tight, and require minimal energy for heating and cooling. When the couple moved into the house in February 2012, they hoped the 1,240-square-foot home would come very close to achieving net-zero energy. Now, more than two years later, we checked in with Lynne and Bob to see how their home is performing.
Crunching the Numbers
A self-proclaimed "data guy," Bob invested in an eGauge energy monitoring system so that he and Green Hammer's Certified Passive House Consultants could monitor nearly every circuit in the house. As a result, the couple knows their home is using about 12 percent more energy than anticipated. The detailed information provided by the eGauge monitoring system helps Bob and Lynne reduce their household energy footprint. The data can also help designers more accurately predict energy use in the future.
Electricity is the house's only energy source, running the heat-pump water heater, mini-split heat pump for space heating, electric induction stovetop, and other appliances. These systems and appliances are powered by a 4.08 kWh solar panel array. Data collected show that the panel is providing 85 percent of the home's electricity. The home's six biggest electricity users are its hot water heater, electric clothes dryer, computers and television, heat pump, ventilation and heat recovery, and cooking appliances (cooktop, hood and wall oven).
Reacting to the Numbers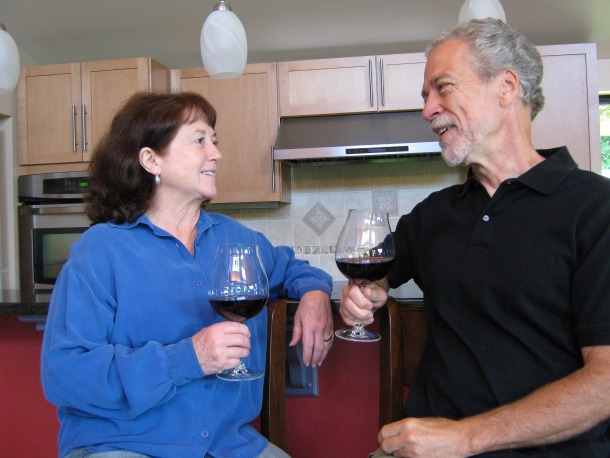 Having real-time data on their energy use lets Bob and Lynne try out ideas for reducing their energy use and get immediate feedback on their success.
They found that the clothes dryer was the second-largest energy consumer in the house. By changing the dryer's settings for regular loads, they were able to lower their energy use per load by 25 percent.
The cooler for the couple's large wine storage unit was operating almost continuously during the summer months. "Ideal temperature for wine storage is 55°F," Bob said. "But that's not an absolute, so we thought we'd try raising the temperature for the hot summer months." A 10-degree increase lowered the cooler's energy use by almost 70 percent with no noticeable effect on the wine.
When Bob and Lynne lived in New Mexico, they had to closely monitor their water use. "If the storage tanks were empty, we would have to haul water up to the house until the rains returned," Bob said. "Fortunately we never had to do that.
A few months ago, the couple looked at their current water use and was surprised by several discoveries. "Our water consumption was much, much higher than we realized." By working to reclaim their water-conscious habits, they were able to reduce their in-house water use by 30 percent. As an additional benefit, the electrical monitoring system showed a 25 percent decrease in power use by the hot water heater, the home's No. 1 power user.
Words of Wisdom
To others who are considering building a custom home using green design techniques, Bob has this advice: "The biggest thing you can do is build a small house. Passive houses don't have to be small, but smaller homes require fewer building materials and use less energy. After that, focus on air tightness, heat recovery and insulation. Find a contractor and designer that you really trust and make sure that they have experience building the type of house you want."
He notes that if you decide to build a Passive House, be prepared to spend more money per square foot compared to a conventionally constructed home. However, also be aware that you'll save significantly on energy and maintenance costs. Compared to a conventional house with no solar panels, this adds up to about $2,000 in annual savings for Lynne and Bob.
"It's really important to have a clear vision of what you are trying to accomplish and why," Bob says. "We might have paid more upfront, but we got a house that was designed exactly the way we wanted. And it functions exactly the way that we hoped it would."