Blog
Digging Into the Living Building Challenge
10.20.15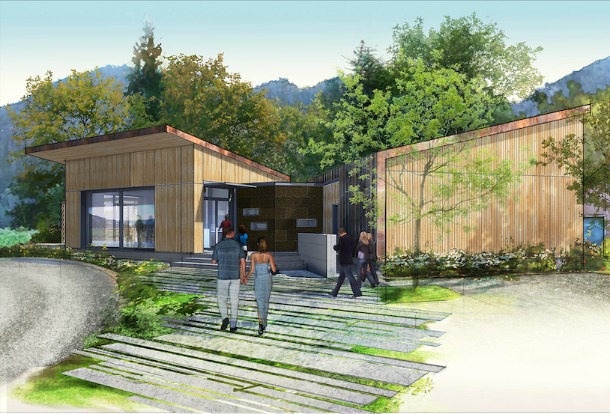 A rendering of the soon-to-be-completed tasting room at Cowhorn Vineyard and Garden.
At Green Hammer, much of our work is influenced and inspired by the Living Building Challenge™ (LBC), which is recognized as the world's most stringent green building standard.
As its name suggests, achieving LBC certification is no easy feat. As of September 2015, just eight projects have achieved Full Certification, including the Bullitt Center in Seattle. To achieve LBC Full Certification, a project must meet 20 imperatives within seven performance areas (or "Petals") over a minimum of 12 months of continuous occupancy. A structure must produce as much energy as it uses, capture and treat rainwater to meet its annual water needs, and prove that the builder has done due diligence to avoid the use of "Red Listed" building materials.
Types of LBC Certification
Because Full Certification is an expensive and extremely challenging endeavor, many privately funded projects go for Petal Certification, which means satisfying the requirements of three or more Petals, including at least one of the following: Water, Energy or Materials. In addition, both Imperative 01: Limits to Growth and Imperative 20: Inspiration and Education must be achieved. As of September 2015, just six projects have received Petal Certification and 12 have achieved Net Zero Energy Building Certification.
The first step toward LBC certification is to register your project with the International Living Future Institute. Currently there are about 300 registered LBC projects globally. One of those is Cowhorn Vineyard & Gardens tasting room, which Green Hammer designed and is constructing in Southern Oregon. From the start, owners Barbara and Bill Steele were committed to pursuing the Materials Petal, as it aligns with their overall business philosophy and is a way to leave their land even better than the way they found it.
Materials – The Hardest Petal of the Seven
The Materials Petal addresses the environmental impact of building products — including their impact on the health of the building's occupants as well as the local economy. "The goal of the Materials Petal is market transformation. It's our job to push vendors, suppliers and manufacturers toward greater transparency and ultimately products that are better for people's health and livelihoods," says Green Hammer, COO, Alex Boetzel. "That's why this Petal is so hard to achieve — it requires a commitment not just from the project team. It relies on suppliers and manufacturers to buy into the greater goal."
That's a big reason why this is the only project, regardless of size or location, working toward achieving the Materials Petal certification. Green Hammer is setting out to prove that while it's extremely hard, it's entirely possible. "Our unified design build team has a depth of experience and a team approach that enables us to respond to and address questions quickly and effectively," says Boetzel. "It makes a world of difference to have the entire project team under one roof working together."
So what does it actually entail on a daily basis to document that the project team has done their due diligence to avoid Red Listed materials?
Step 1 - Green Hammer sends the manufacturer a letter, asking the company to verify that a specific product is Red List-free. "Once we get that confirmation, the product is earmarked to be installed," Boetzel says.
Step 2 - Then Green Hammer requests back-up documentation, including a list of all the ingredients in the product, the CAS Registry (Chemical Abstracts Service) number for each ingredient and the total percentage of each ingredient the product contains. The total must add up to 100.
"While there are just 20 chemical compounds on the Red List, there are easily 800 aliases for each one," Boetzel says. "Needless to say, we are dependent on the information that people want to supply to us. We must prove that we've reached out to at least three different manufacturers for each product. If we don't get a response from all three, we can make our best judgment," Boetzel says.
Of course, there are exceptions to the rule — and the rulebook is always evolving. For example, in LBC v2.0 and v2.1, mercury (a Red Listed material) was considered a "temporary exception" in the case of CFLs because the efficiency of a CFL was considered more significant than the amount of mercury in CFLs. But now that the market has shifted enough so that LEDs are comparable to CFLs in price, the temporary exception for mercury in CFLs has been removed.
Nearing the Finish Line
Green Hammer Project Coordinator, Alexandra Batzer, has been working tirelessly to educate manufacturers and convince them to buy into the overall goal and share material ingredient lists.
"Team members like Alexandra are the true engines behind the market transformation LBC set out to advance," Boetzel says. "Some manufacturers were already feeling pressure from customers for better transparency and we were the ones to tip the scale. The patience and endurance Alexandra has shown in working with the manufactures is awe-inspiring."
With the completion of Cowhorn tasting room slated for later this year, Green Hammer is currently in "full throttle advocacy mode," according to Boetzel. "I can't emphasize how herculean a task this has been. If we are successful, this is going to be an incredible accomplishment for the owners and the entire project team."
For project updates and photos, follow Green Hammer on Facebook, Twitter and Pinterest.