Blog
Irvington home toys with efficiency
4.12.13
PROJECT SPOTLIGHT
Irvington home toys with efficiency
When Mark Nutcher and Birgit Koehler set out to remodel their home in Portland's Irvington Historical District, they were looking to improve the overall efficiency of their house, convert the natural gas heating system to electric and create additional space.

"The house was flipped before we bought it," says Birgit. "But it was flipped for aesthetics, not energy efficiency." She says they chose Green Hammer because "we knew they would make decisions that matched our values."

With Green Hammer's help, they were able to meet all of their goals — even though they faced a few unique challenges. Aside from the strict requirements put in place by the 2010 designation of Irvington as a National Historical District, the house serves as the headquarters of Mark's wooden toy-making business, Wood Toy Shop. With business growing, it's no surprise that the three-bedroom house was feeling a little too small for Wood Toy Shop, Mark, Birgit and their two daughters, Cory (16) and Sasha (13), who have shared one room their entire lives.

Starting from the ground up Mark's basement workshop was not exactly comfortable – especially during the fall and early winter months when it felt a lot like Santa's Workshop at the North Pole for more reasons than one. A warmer house was a top goal. But almost equally as important, this one-car family (which hasn't filled the tank in their plug-in-electric hybrid in over five months) wanted to heat the house with energy generated from their 4.4-kilowatt solar PV array.

So the Green Hammer team started by removing the forced-air natural gas-powered furnace and accompanying ductwork.

We then completed radon mitigation and installed a highly efficient mini-split ductless heat pump with four separate indoor units and wall insulation. The result: A much more efficient heating system powered in large part by the house's solar PV system — not to mention a much more comfortable, spacious workshop.

Movin' on up
Green Hammer vastly improved the daylighting on the first floor of the house by adding a picture window to Mark's office and French doors leading from a reading room to the outside patio. We installed two heat pump units, which complement the wood stove as the primary heating sources.

The second story saw the most drastic renovations. Cory and Sasha now each have their own bedroom and a shared bathroom, and the entire floor has much more storage than is typical in historical homes of its era. A fourth heat pump
unit regulates the upstairs temperatures. This will be most helpful during the warmer summer months when the second floor needs to be cooled.

A team approach
"We appreciated the integrated design-build process that Green Hammer uses," says Mark. That intentional process helped ensure that the entire renovation was completed in about four-and-a-half months. The family is enjoying the comforts
of living in a more spacious, insulated home. They also expect to experience cost savings from their new heating highly efficiency heating and cooling system, which they are still working to dial in. "The units are working quite well, but the control system has its challenges," says Birgit.

Mark, a former software engineer, and Birgit, a scientist for the Bonneville Power Administration, are manually controlling the individual units and monitoring their effectiveness by collecting data via sensors.

They say they consider the project an overall success, and so do we.

"It's a great example of how you can make some significant changes to a historic home while preserving the historical character of the house and the surrounding neighborhood," says Green Hammer Chief Innovation Officer Alex Boetzel. "From the outside of the house, pedestrians would not be able to tell that such significant renovations had been made."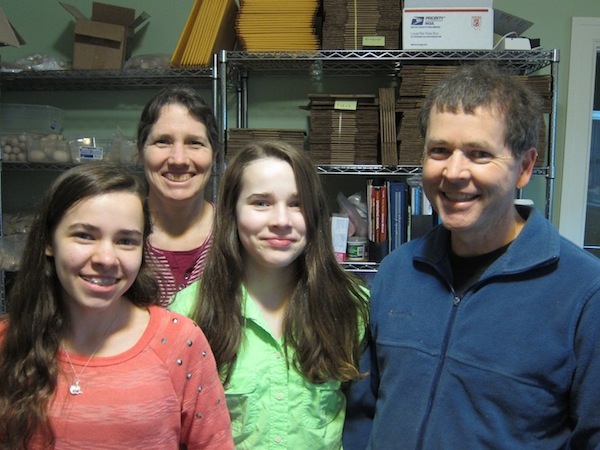 Save