Blog
Celebrate International Passive House Days at Ankeny Row
11.5.16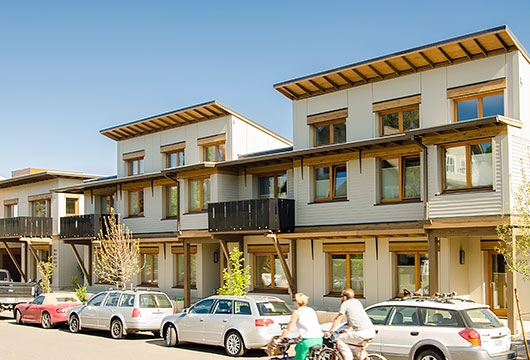 See the Passive House high-performance building standard in action Friday, November 11, 2016, when Green Hammer CEO, Stephen Aiguier will lead free tours of Ankeny Row, a net-zero energy community in SE Portland designed to meet the Passive House standard. The Ankeny Row tours conicide with the 13th Annual International Passive House Days, November 11–13, 2016, organized by the International Passive House Association and its international affiliates.
Ankeny Row is a net-zero energy urban infill community built on a once-vacant 12,600-square-foot site that includes seven craftsman-style townhomes and a shared common unit, garden and courtyard. The owners of Ankeny Row are retiring couples with a strong desire to age in place in the heart of the city while minimizing their living expenses and environmental footprint. Completed in the spring of 2015, Ankeny Row is exceeding its net-zero-energy goal.
Learn about Passive House design and construction while touring this unique urban infill project.

WHEN: Friday, November 11, 2016
12:45pm – 1:30pm
1:40pm – 2:15pm
2:20pm – 3:15pm
WHERE: Ankeny Row, SE 25th and Ankeny Street in Portland, Oregon
Tours will begin and end in the common room.
More Info: Call 503.804.1746