Blog
Green Hammer Wins Sustainable Business Oregon's Innovation in Sustainability Award
11.14.13
Green Hammer is proud to accept the Innovation in Sustainability award from Sustainable Business Oregon and the Portland Business Journal. Along with Cascade Energy and Holst Architecture, Green Hammer won for excellence in the Energy category. Click here to read why they chose us.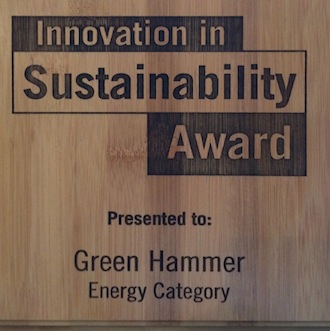 Celebrating its fifth year of honoring sustainable businesses, this year the awards categories were updated. Instead of awards for product, supply chain, operations and advocacy, the new categories were more sector-specific: energy, equity, food, natural environment, waste, and water. Plaques were awarded to the winners at a luncheon ceremony at the Governor Hotel in downtown Portland on Thursday, November 14. Green Hammer employees Stephen Aiguier, Alex Boetzel and Michael Spatzek were in attendance to accept the award.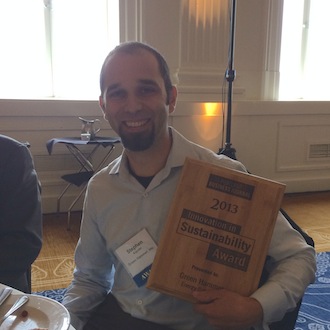 Big thanks go to Sustainable Business Oregon and Portland Business Journal for recognizing two of our favorite things, which also happen to be values we espouse here at Green Hammer: Innovation and Sustainability. And congratulations to the other 19 hardworking and forward thinking organizations that were honored as well.