Blog
Green Hammer fuels Portland's ADU explosion
7.9.13
Accessory Dwelling Units (ADUs) are swiftly becoming almost as abundant as bike corrals in almost every Portland neighborhood. The ADU explosion within the city limits is largely due to the City Council's decision in 2010 to approve waiving system development charges for ADUs, which amounts to several thousand dollars of savings for homeowners. For many, it's the equivalent of the First-Time Homebuyer Credit in 2008 to 2010- the extra nudge needed to make a substantial investment in real estate they otherwise never would have made. Many green building advocates watched in excitement as the number of ADUs in Portland has consistently grown over the last few years. To build on this success, the Portland City Council voted in December 2012 to extend the waiver on system development charges another three years.
At Green Hammer, we are seeing increased interest in ADU design-build projects- not just as add-ons to existing homes, but as part of new home construction as well. Many factors weigh into people's decision to convert a lawn, basement, or garage into a separate living space. Portland's system development charges waiver plays a role in homeowners' decisions, as does the need to care for aging parents or other family members, or generate supplemental income.
The beauty of ADUs is that they encourage small-scale, efficient living (in Portland, ADUs can't be more than 75 percent the size of the main home). "Small footprint living is a lifestyle choice, and ADUs can really fit the bill." says Rob Cellini, Green Hammer's Design-Build Manager. "Plus, people really enjoy the flexibility of having an ADU. It can be an extra source of income, a place for family or friends to live, or a place to age into."
Cellini consulted on two Green Hammer high-performance ADUs, both of which utilize energy-efficient design and green building materials to create healthy, comfortable living spaces that are also extremely affordable to heat, cool and power.
The Kiraly Custom Home is a rustic-urban Northwest craftsman built for a growing family in the heart of Portland. The characteristics of the 535-square-foot ADU mirror that of the main house: exposed FSC-certified post-and-beam interior, kitchen cabinets crafted from 100% reclaimed materials, and a super efficient shell. The one bedroom, one bathroom live-work ADU utilizes all-electric systems and appliances, allowing it to become net-zero energy with the future installation of onsite renewable energy. Read more about the entire Kiraly Custom Home.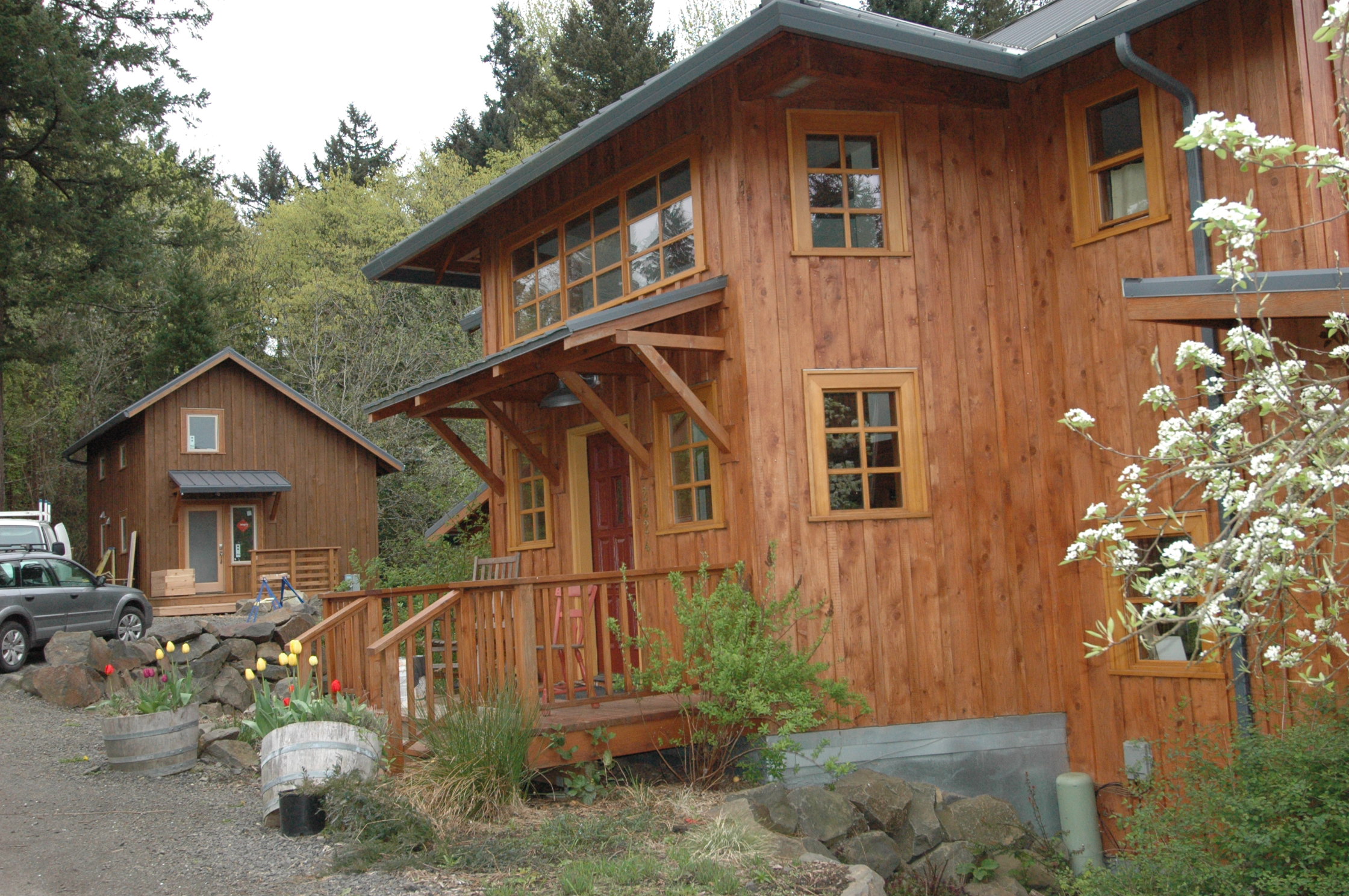 Kiraly Custom Home with ADU in background
The Granger LEED-Platinum Custom Home is net-zero energy and the first building constructed entirely of salvaged felled trees from within Portland city limits. It features a 3,000-gallon potable rainwater harvesting system, hydronic heated earthen floors, staggered stud super-insulated shell, and a 6-kilowatt photovoltaic (PV) array. It features an attached 550-square-foot, space-efficient studio. There is a doorway in the wall between the main house and the ADU, which is currently sheetrocked. But if the Grangers or a future owner want to combine the two spaces in the future, the sheetrock could easily be taken down. Like many other homeowners who have invested in ADUs, the Grangers say they like the flexibility that it provides. They like to travel, so the ADU could serve as their home base. They might also choose to downsize in their older years and move into the ADU fulltime.
"The Grangers put a lot of time and thought into how they could best utilize space and maximize their land," says Stephen Aiguier, Green Hammer CEO. "For slightly more than they would have spent on a single-family home, they now have an ADU that generates income and could serve multiple uses in the future." Read more about the Granger LEED-Platinum Custom Home.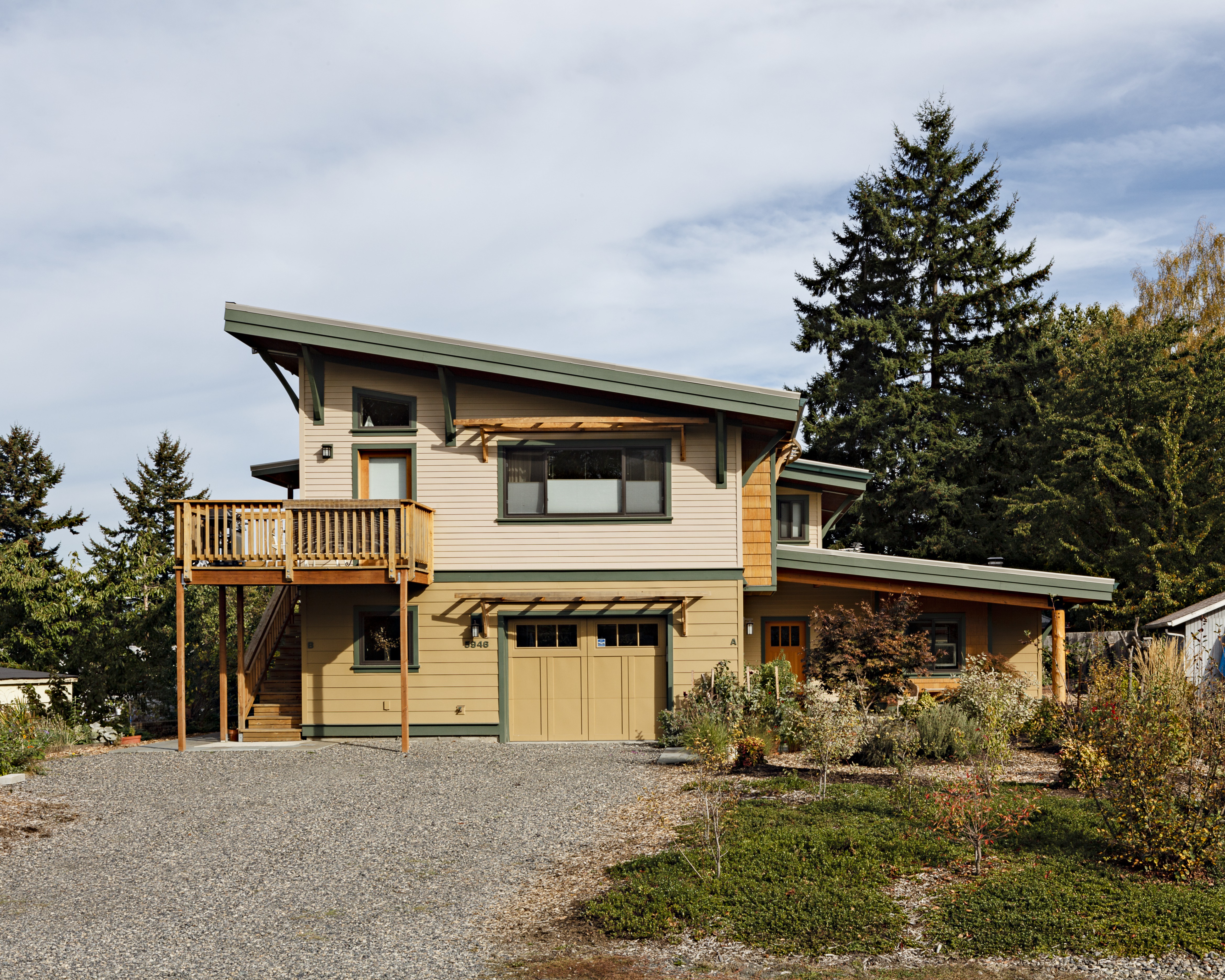 Granger LEED Platinum house with attached ADU
Considering building an ADU on your property? Our building experts can discuss your project goals. Contact us today.
Learn more: www.accessorydwellings.org