Blog
Green Hammer Celebrates Completion of Cowhorn Winery Tasting Room
1.12.17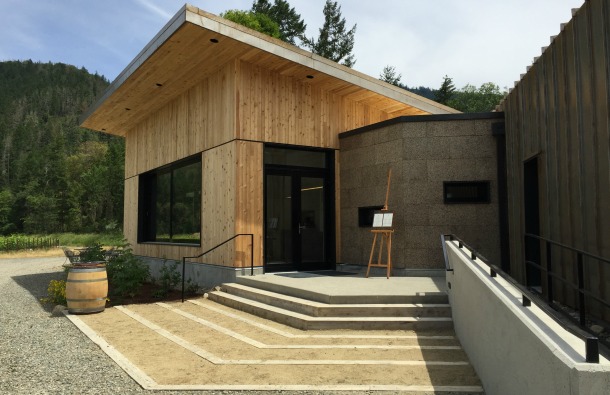 Photo by 2Yoke Design
Green Hammer is pleased to announce the completion of a new tasting room and cold storage building as well as new Passive House residence at Cowhorn Winery and Garden in Southern Oregon's Applegate Valley.
When setting out to build a 2,000 square-foot tasting room and case storage building, owners Bill and Barbara Steele wanted to show the world that sustainable practices and for-profit business are not mutually exclusive. The Steeles and Green Hammer together decided to pursue the Living Building Challenge™, widely considered the world's most rigorous building standard.
Administered by the Living Future Institute, the Living Building Challenge goes well beyond LEED Platinum certification, aiming to create buildings that exclude the use of toxic and bioaccumulative substances pervasive in most building materials, produce more renewable energy than they consume, maintain ecological water flow, and meet additional requirements related to place, health, happiness, equity and beauty.
To achieve LBC Full Certification, a project must meet 20 imperatives within seven performance areas (or "Petals") over a minimum of 12 months of continuous occupancy. A structure must produce more energy than it uses, supply all its energy and water needs through onsite closed-loop systems, and prove the builder has done due diligence, through extensive documentation, to avoid the use of building materials with "Red Listed" ingredients.
As its name suggests, achieving LBC certification is no easy feat. Since the challenge was launched in 2006, only 44 projects worldwide (three of which are in Oregon) have achieved LBC partial 'Petal' Certification and only 22 projects have received LBC Full Certification.
If it achieves LBC certification, Cowhorn Vineyard & Garden will be the first winery in the United States to do so. "Helping Cowhorn achieve the Materials Petal of the LBC was "a herculean effort," according to Alex Boetzel, Green Hammer, Chief Operation Officer and Certified Passive House Consultant, who managed the LBC certification process for the Cowhorn tasting room and case storage building. "Only those who have actually pursued this standard to its end truly understand just how extremely challenging an effort it is to achieve the Material Petal."
"In addition to being Red-List Free, the exterior materials were selected as a physical reminder that great wine improves with age. Similar to the dynamic nature of wine, the untreated Cor-Ten will change over time, taking on the rich, burnt sienna jewel tones and organic character that comes from exposure to the elements while the unfinished cedar will silver gracefully with age," says Green Hammer architect Erica Dunn.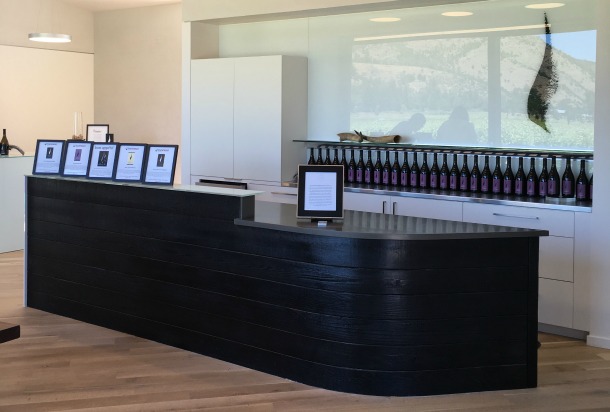 Photo by 2Yoke Design
"As you enter the Tasting Room, you step onto white-washed Oregon oak flooring. The whole space is very bright and white. The middle of the main space is punctuated by two sleek free-standing bars, each cloaked in white glass and black Shou Sugi Ban, a traditional Japanese preservation method of charring wood. The contrast of texture and color aims to celebrate the cycle of life, death and rebirth, inherent to all natural processes," Brienne Wasmer, 2Yoke Design.
Project partners included Energy Trust of Oregon's Path to Net Zero Program, 2Yoke Design, and The Structural Department.
Learn more about the project
here
.