Blog
Living the Passive House Dream
1.14.14
A Passive House in northeast Portland delivers big energy savings
In 2011, Mark Darienzo and Robin Cash started looking for a piece of land where they could build the home where they would spend the rest of their lives. They wanted a live in a home and neighborhood that would allow them to age in place and, just as important, significantly reduce their environmental footprint.
"Robin's dream for many years was to build an energy-efficient house," Darienzo says. "We learned quite a bit about energy efficiency and Passive House design by attending Solar Oregon's goal net zero monthly presentations. The rest is history."
Fully committed, Darienzo and Cash embarked on a journey to build what is one of the most energy-efficient, environmentally responsible houses in Portland — and all within a modest budget.
"This is a Passive House 'plus'," says Alex Boetzel, Green Hammer's Chief Innovation Officer. "It's an excellent example of Green Hammer's guiding principles."
Going the extra mile
After looking at numerous lots and "tear-down" homes, Darienzo and Cash decided to build on a lot in northeast Portland, which included a dilapidated 600-square-foot house. They carefully deconstructed and recycled as much of the house as possible. Then they reached out to Green Hammer to help them make their dreams around a new home a reality.
"Robin and Mark wanted a house that was net-zero energy and net–zero water, and they rose to the challenge," says Alex Boetzel, Green Hammer's Chief Innovation Officer. "We didn't leave any idea unturned. And it's remarkable what we achieved together."
The couple decided to pursue the Passive House standard, which is the world's most advanced building energy-efficiency and quality standard. By focusing on insulation, air-tightness and heat-recovery, the 1,300-square foot, three-bedroom, two-bath house was designed to reduce energy needs by 90% compared to a conventionally built home of the same size.
"Of course that's a model based on assumptions about how the occupants would behave," Boetzel says. "Robin and Mark have gone over and beyond to stretch that 90% efficiency model to achieve net-zero energy."
In an attempt to ensure the house achieved both their environmental and financial goals, Darienzo and Cash took a very hands-on approach to the project. For example, they opted to go without a clothes dryer as a way to save energy. "We thought we'd try it," Darienzo. "It's not actually been that hard."
Passive House design principles
The house has a super-tight building envelope, featuring:
A "curtain wall" that resulted in 14-inch-thick walls in which cellulose insulation was installed (see photo below). The walls are R-45.
Argon-filled, triple-pane fiberglass windows manufactured by Cascadia. The windows are R-6.
A concrete slab foundation with rigid foam insulation. The floors are R-45.
A metal roof, over an all-cellulose vapor open assembly (R-80), that could last as long as the house (100 years).
Double layers of interior drywall added thermal mass inside, which reduces cooling needs.
What little heating (and virtually no cooling) is provided by a very small, extremely efficient ductless heat pump. The 95% efficiency Zehnder Heat Recovery Ventilator ensures exceptional indoor air quality.in every room of the house A 3.29K solar system leased from SunRun was expected to provide enough electricity to power the home most of the year.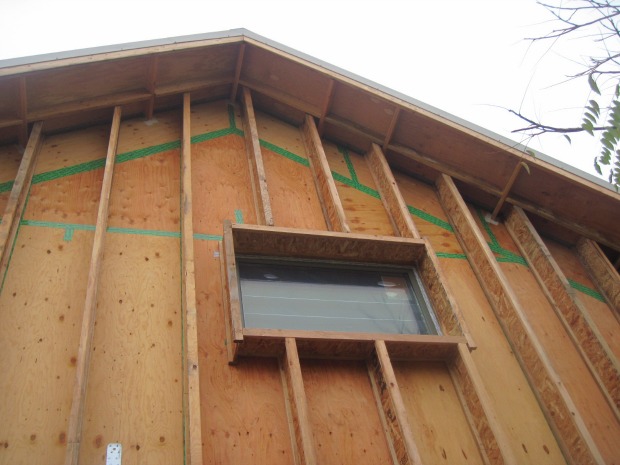 Seeing results
In 2013, the first full year of operation, the 3.29K solar system produced more energy that the house consumed – about 500 kilowatt-hours in excess.
The house also features a rainwater harvesting system that provides enough water storage to eliminate the need for city water. The couple is hooked up to Portland's water system just in case something goes awry. Pending some technical issues, the project is slated to achieve net-zero water on an average year.
The 3,000-gallon cistern, pump and series of filters cost about $25,000 to install. "It's probably not going to pay for itself," Cash says. "But we do think there will be water shortages in the future and installing the cistern was important to us."
A healthy home
Darienzo and Cash made every effort to minimize the environmental impacts of their building materials. The building structure is made solely of wood certified by the Forest Stewardship Council.
Green Hammer did not use any spray foam to insulate the house. "We didn't want to offset the carbon we will save in the operation of the house by using spray foam, which has high global warming potential," Boetzel says. "We used some of the most inert products available."
The couple was very hands-on when it came to choosing and installing some of the interior finishes, including tiles, cabinets and paint. Working directly with the products, they recognized even more the importance of using low- and no-VOC products.
The heavily insulated walls create a quiet, peaceful and comfortable home, according to Mark and Robin. Plus the many south-facing windows allow plenty of sunlight into the home, which is as important for lighting as it is for improving their mood, they say.
"Everybody that comes to our house talks about how good it feels and how peaceful it is," Cash says.
Green building advocates
Darienzo and Cash have always been big advocates for green building, but they are even more so now. The couple's house was featured on two tours in 2012: Solar Oregon's Goal Net Zero tour in June, and the City of Portland's Build it Green! tour in September. Their home has been featured in numerous green home tours, as well as in Home Power magazine.
The house is one of the most affordably built Passive Houses Green Hammer has built to date – and perhaps in the city of Portland. "Within the means that we had, we built the lowest-impact, most efficient home possible," Boetzel says. "We were amazed by Mark and Robin's level of engagement."
Interested in seeing how Darienzo and Cash continue to learn from the living laboratory that is their home? Check the Green Hammer blog for future updates, or better yet, sign up to receive our newsletter.