Blog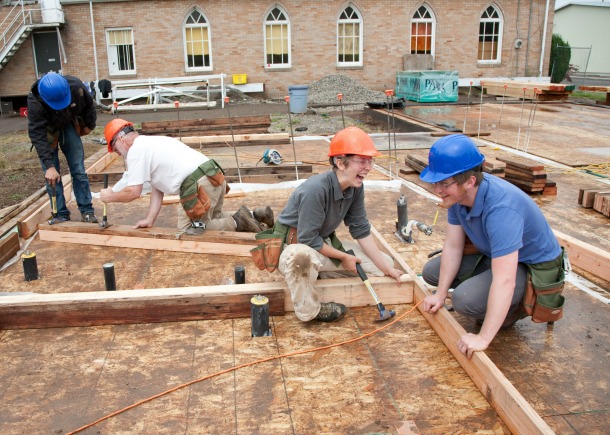 How migrant workers built one of the most sustainable buildings in the country
Like many winter mornings in Woodburn, Oregon, a steady, cold rain pours down outside the CAPACES Leadership Institute. But inside the 2,800-square-foot building, daylight spills into the offices and classrooms through expansive triple-pane windows. It's a comfortable 70 degrees inside one of the meeting rooms, where about 20 students gather for a workshop.
In 2012, the institute's six staff members traveled just a few hundred feet when relocating from their old office building (an old church) to this new one. Yet, to them, it feels like an entirely different universe.
"We used to wear winter coats all day," says Abal Valladares, program coordinator for the institute's youth leadership program. "Our office was cold and drafty and cramped. It was hard to concentrate, and trying to find meeting space was difficult."
CAPACES' new, super-insulated building is comfortable during both the winter and summer months, and it's a fraction of the cost to heat and cool compared to a typical educational center of its size. The building is the first educational facility in the West to receive certification from the Passive House Institute US (PHIUS). Common in Germany ("house" in German translates to all building types) but still emerging in the United States, Passive Houses consistently achieve a 90 percent heating energy reduction compared to typical buildings. The CAPACES Leadership Institute's facility is 20 times more airtight than a similar building built to code. A high-efficiency energy recovery ventilation (ERV) system provides continuous, freshly filtered air to each room, creating optimal conditions for working and learning.
The institute is more than offices and classrooms; it's an important community center that was spawned from PCUN, Oregon's farmworkers union, and its eight sister organizations as a place to train and inspire a new generation of young leaders. The nonprofit organization prepares leaders with the political consciousness and capacity needed to lead and support social justice work.
Before moving into the new building, Valladares delivered trainings wherever he could find free space. That often meant people had to travel long distances, which wasn't possible for many. "This place has helped us amplify our reach and connect with so many more people," he says.
Valladares played an instrumental role in leading the fundraising campaign for the new building and for helping organize the more than 1,000 volunteers who rolled up their sleeves during the construction phase. With a "Así, se puede!" (Yes, we can!) spirit, hundreds of migrant farmworkers, carpenters, electricians, plumbers and other members of the community volunteered for two years swinging hammers, shoveling dirt, installing equipment and contributing in other ways. Thanks to their efforts, when CAPACES moved into their building in 2012, the organization had incurred zero bank debt and had very little obligation to local utilities.
"It was an outstanding achievement," says Stephen Aiguier, Founder and CEO of Green Hammer, a design-build firm that provided Passive House consultation and construction management on the project. "But it's also a vivid reminder about what sustainability truly means. In the two years that Green Hammer worked with PCUN to create this state-of-the-art center, we learned how directly engaging a building's stakeholders in the design and build process can unlock exceptional potential to empower, inspire and strengthen a community."
It takes a village
The institute hosts about 150 program participants each month, yet the average monthly utility bill for the all-electric-powered building is a mere $90. For a nonprofit that conducted the bulk of its capital campaign during a recession and relies heavily on donations to continue operations, the building's low operating costs make a huge difference, says Laura E. Isiordia, the institute's executive director. "Funders looked at this project and saw that it brought multiple benefits to the organization," she says. "They were very impressed."
A native of Nayarit, Mexico, Isiordia, has been a community organizer, outreach worker and leadership developer in the Woodburn area for more than 20 years. "In our culture, volunteering is part of our culture," she says. "I come from a small village, where once a year, people get together to paint the school or basketball court. That's what we do here, too."
Isiordia, recalls a day when three women showed up to help build the retaining wall outside CAPACES. "We carried 3 tons of rock that day," she says.
"Seeing the local latino community and the larger green building community mobilize more than 1,000 people to help with the building was inspiring. Using volunteers certainly came with bumps, bruises and mistakes but there was a sense that everyone was working on something larger than just a structure," says Gene Wixson, former Green Hammer Project Manager.
The institute continues to rely heavily on volunteers for landscaping, maintenance and additional improvement projects. For example, CAPACES celebrated its first anniversary with a mural-painting party led by world-renown Chicano artist and activist Juanishi Orosco. More than 200 volunteers helped complete the mural, which is Woodburn's first publicly approved mural.
"Our leaders organized the community and passed the ordinance, both paving the way for future murals, and increasing a dialogue, unity, and friendship between the various cultural and political groups of Woodburn," says Rosi Barker, CAPACES' director of communications and fundraising.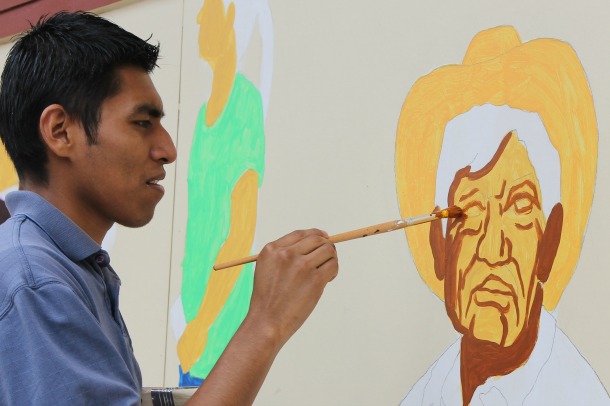 A living laboratory
While the building performed well during its first two years of occupancy, it has also taught its occupants and designers a few lessons about Passive House design. The design team adopted natural "night flush" ventilation cooling through open windows as a strategy to reduce air-conditioning use. Because automated windows were cost-prohibitive, the strategy relies on the institute's staff opening windows in the evening of hot summer days and closing them again in the morning. This strategy has worked well overall, despite staff's busy schedules. Other unexpected challenges have included addressing glare issues on computer screens from large windows and learning to work with lighting automated by occupancy sensors (an Oregon code requirement).
"It's okay," Isiordia says. "All of these things are reminders for us—educational tools. The building inspires us, and the values behind it have translated into our curriculum, our actions, and ultimately our visitors."
Today, CAPACES remains one of just a few commercial buildings in the United States to have achieved Passive House certification. This is largely due to the fact that the upfront investment in Passive Houses is most easily "stomached" by long-term building owners who will realize the the financial benefit (as well as benefits in health, comfort and durability) delivered through a lifetime of miniscule heating bills.
"The general marketplace doesn't currently appreciate the superior indoor environmental and long-term operational savings that Passive Houses provide," says Dylan Lamar, Green Hammer architect and Passive House consultant. "Thus, spec builders of commercial space have very little financial incentive to build to the Passive House standard."
Lessons continue to present themselves all the time. During a recent visit, Lamar was trying to figure out why the building's electricity usage spiked in the fall of 2014. He found the culprit to be multiple, all-day events hosting upwards of 100 people at the Institute, which required higher air-conditioning and ventilation loads than predicted.
Despite these occasional challenges, CAPACES continues to be driven by the "Así, se puede!" spirit. The organization plans to seek funding to purchase solar panels. A modest array would make the building a net-zero-energy facility and make the organization more resilient to fluctuating energy costs.
"We have the means and the motivation to continue to improve," Isiordia says. "We have the key ingredients to showcase what sustainability truly looks like."
Check out CAPACES Leadership Institute's 12 guiding principles.