Blog
CAPACES Leadership Institute receives PHIUS+ Passive House Certification
2.27.13
MEDIA CONTACTS
Stephen AiguierFounder and CEOGreen Hammerstephen@greenhammer.com503-804-1746 x113
Laura Isiordia
Executive Director
CAPACES Leadership Institute
lauraisiordia@capacesleadership.org
503-710-1317
CAPACES Leadership Institute and Green Hammer receive
PHIUS+ passive house certification for innovative learning center
WOODBURN, ORE. (February 27, 2013) – The CAPACES Leadership Institute this week received the leading-edge PHIUS+ passive house certification for its innovative new building in Woodburn, Ore. The building project was co-led by PCUN, Oregon's farmworkers union, and incurred no debt thanks to the help of nearly 1,500 volunteers and donated services and materials from two dozen local companies. The building is the first educational facility in the West to receive certification from the Passive House Institute US (PHIUS).
"This is not just a milestone for Woodburn or Oregon – or even the Pacific Northwest," says Laura Isiordia, the Institute's Executive Director. "It's a milestone for the advancement of sustainable building practices for the entire nation." The Institute is a place where present-day and future leaders of the farmworker and immigrants' rights movement will be trained.
PCUN, or Pineros y Campesinos Unidos del Noroeste, worked with Portland, Ore.-based design-build firm Green Hammer and Portland, Ore.-based architecture firm Communitecture to integrate some of the most advanced green building measures into the 2,855 square-foot learning center. The building is expected to have a heating and cooling load 91% less than a typical learning center of its size and will consume 77% less total energy overall.
PCUN Secretary-Treasurer Larry Kleinman, who has spent more than 35 years working to improve the rights of farmworkers and immigrants in Oregon, was a key leader behind the ambitious goal to seek PHIUS+ certification for the Institute. "It represents a forward-thinking approach that deeply considers the planet that future generations will inherit," he observes.
The PHIUS+ passive house standard is the world's most advanced building energy-efficiency and quality standard, and is centered around three equally important principles: insulation, air-tightness and heat-recovery. By focusing on these three components during the design phase of this project, Green Hammer engineered the building to use a highly sophisticated heat-recovery system, thereby reducing energy and maintenance costs, improving air quality, and improving the comfort of building occupants. The system, which automatically adjusts with the aid of thermostats and carbon dioxide sensors, is one-of-a-kind, according to Green Hammer founder and CEO Stephen Aiguier.
"This is a first in the industry in so many ways," says Green Hammer's Aiguier. "Passive house design represents the state of the art in building-envelope advancements internationally. To be one of the first in the United States to complete a building of this type is extraordinary in itself. But add the fact that it was created by and for immigrants and farm workers, without debt, and it should be considered an exceptional achievement. Oregon, our green building industry, and supporters of social and human rights should bask in this proud moment."
PCUN and the CAPACES Leadership Institute are jointly hosting a reception at the Institute on March 20, 2013. Special guest former Oregon Governor Barbara Roberts will be reading from her autobiography "Up the Capitol Steps." Roberts, who governed Oregon from 1991-1995, was instrumental in helping PCUN and others establish the Farmworker Housing Development Corporation's first farmworker housing project ("Nuevo Amanecer") in Woodburn in 1992.
About PCUN, or Pineros y Campesinos Unidos del Noroeste
Pineros y Campesinos Unidos del Noroeste means "Northwest Treeplanters and Farmworkers United." Founded in 1985 and based in Woodburn, it is Oregon's union of farmworkers, nursery, and reforestation workers, and Oregon's largest Latino organization, having registered more than 6,000 members. PCUN's fundamental goal is to empower farmworkers to understand and take action against systematic exploitation and all of its effects. It does this by getting involved in community and workplace organizing on many different levels. PCUN has nine sister organizations that form a coalition called the CAPACES network ("which translates as "[we are] capable"). The CAPACES Leadership Institute is a physical space where PCUN's community members can come together to learn, collaborate, become inspired and work toward the change they want to see in the world. Learn more: www.pcun.org and www.capacesleadership.org
About Green Hammer
Green Hammer is a comprehensive design-build firm based in Portland specializing in innovative green building practices. Established in 2002, Green Hammer creates healthy and inspiring buildings, designed for people and built for life. Green Hammer specializes in transforming buildings where people live, work and play to improve occupants' wellbeing, financial health and relationship with nature. Green Hammer founder Stephen Aiguier is a leading green building expert and teacher on net-zero energy and passive house design principles. Green Hammer has received numerous awards, most recently the Earth Advantage Institute's first annual Green Home Builder Award in the category of "Custom Home Builder." Learn more: www.greenhammer.com
About the Passive House Institute US (PHIUS)
PHIUS is a nonprofit organization based in Urbana, Ill., that provides training, education and research to promote implementation of the Passive House Building Energy Standard, as well as the design approach and techniques to accomplish that standard. A "passive" house (Passivhaus in German) achieves overall energy savings of 60-70% and 90% of space heating without applying expensive "active" technologies like photovoltaics or solar thermal hot water systems. The fundamental principles underpinning passive house were developed in North America during the 70s and 80s and Europeans refined the principles to create the current standards. PHIUS has rekindled interest here in North America and has trained more than 450 Certified Passive House Consultants and certified nearly 100 projects. Learn more: www.passivehouse.us (contact Mike Knezovich, mknezo@passivehouse.us, 312-213-0507)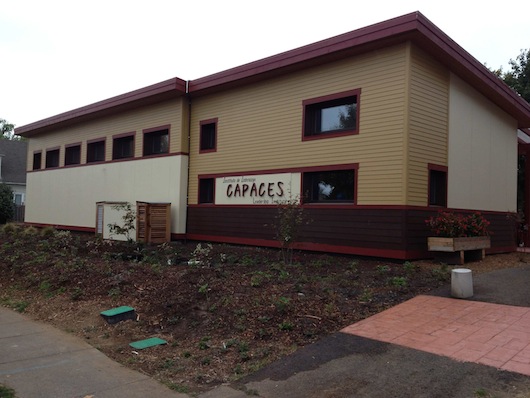 Photo courtesy CAPACES Leadership Institute.