Blog
Ankeny Row Hosts Earth Day Fundraiser
3.23.15
Ankeny Row, a recently completed, net-zero energy community designed and built by Green Hammer, welcomes visitors to an Earth Day fundraiser showcasing sustainable living and green design.
On Saturday, April 25, 2015 from 3 pm – 6 pm, partners in this six-townhome urban infill community in SE Portland will open their doors to the public. During this time, Green Hammer, Synchro Solar, Zola Windows and other project partners will lead tours of and be available to answer questions about the project's Passive House design features. Tickets are $15, with 100% of proceeds benefiting Green Empowerment, a Portland-based nonprofit that provides villages in the developing world with access to clean water and electricity through renewable energy.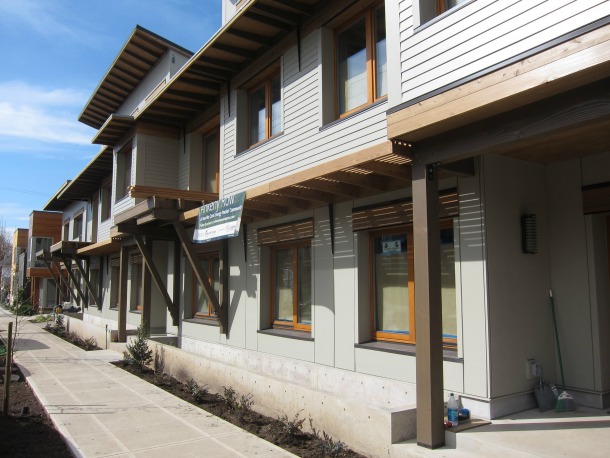 During the open house, staff from Green Empowerment, including its new Executive Director, Miel Hendrickson, will provide an overview of the organization's innovative renewable energy projects and installed clean water systems around the world. Green Empowerment's founders, Michael and Francie Royce, live at Ankeny Row and will also be available to answer questions about the organization's work.
Event Details
WHAT: Ankeny Row Earth Day Fundraiser Benefiting Green Empowerment
Built on a once-vacant 12,600-square-foot brownfield site, Ankeny Row is a net-zero energy urban infill community that includes six craftsman-style townhomes and a shared common building, garden and courtyard. During this event, get a tour of Ankeny Row from design-build firm Green Hammer, learn about its solar system from Synchro Solar, and get insights on Passive House design from Zola Windows. Plus, learn about the work being done around the world by Portland-based nonprofit Green Empowerment.
WHERE: Ankeny Row, SE 25th and Ankeny Street in Portland, Oregon

WHEN: Saturday, April 25, 2015, 3 pm – 6 pm (three separate tours during that time).
COST: Tickets are $15 per person and available to the public through greenempowerment.org. Light refreshments will be served.