Blog
Ankeny Row celebrates groundbreaking
9.30.13
On Tuesday, Sept. 24, 2013, Green Hammer and the owners of Ankeny Row, LLC celebrated the groundbreaking of Ankeny Row, a new net-zero energy pocket community in the Buckman neighborhood of Southeast Portland. Dr. Wolfgang Feist, the co-originator of the Passive House concept, and founder of the Passivhaus Institut in Germany, joined them in the official "first dig."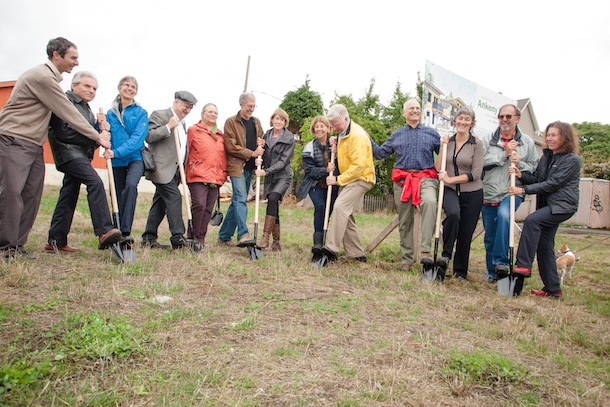 Building on a once-vacant 12,600-square-foot lot, Ankeny Row includes six craftsman-style townhomes and a shared common building, garden and courtyard. Its proximity to stores, restaurants, parks and public transit mean that residents can live a car-free lifestyle if they choose.
All of the buildings were designed to the Passive House standard, utilizing a combination of super-insulated, airtight construction, heat-recovery ventilation and passive solar heating. As a result, the buildings' heating loads have been reduced by 90% compared to typical new homes. The buildings will produce all of their own energy from rooftop solar arrays, allowing them to achieve net-zero energy performance.
Feist encouraged the owners to open their doors to the public and share lessons learned through the process of designing, constructing and living in houses designed to the Passive House standard..
Other sustainable features of the project include:
Structures built entirely with Forest Stewardship Council® (FSC)-certified wood products.
Zehnder high-efficiency heat recovery ventilator, providing excellent indoor air quality.
Zola FSC Meranti ultra-high performance windows.
Stainless steel, ENERGY STAR-certified appliances.
Low-flow water fixtures.
Low-VOC paints and finishes.
Walk Score of 86.
Electric car-charging station.
Construction will begin in October 2013 and be complete by Fall 2014. Check out the Ankeny Row blog for photos, video and commentary about the construction of this groundbreaking project.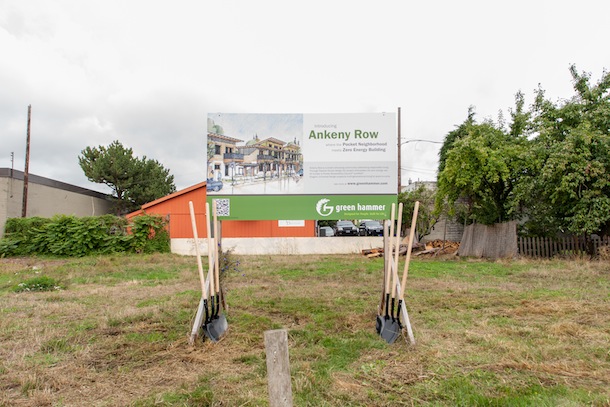 See the rest of the photos on our Facebook page.
Ankeny Row in the news:
Daily Journal of Commerce, "Empty nesters planning Southeast Portland housing development," January 19, 2012
EESI, "Retiree fired up about creating a Passive House Community in Portland."