Blog
Ankeny Row Featured in Passive House Book
8.26.15
Ankeny Row, a net-zero energy community in Portland, Oregon, designed and built by Green Hammer, is featured in a beautiful new e-book published by the North American Passive House Network. Orchards at Orenco Station, a 57-unit affordable housing building in Hillsboro, Oregon, for which Green Hammer served as the Passive House consultant, is also featured in the book.
Net Zero Energy Buildings: Passive House + Renewables provides an overview of Passive House and net-zero energy construction, and gives examples of some of the most forward-thinking Passive Houses built to date. Green Hammer is a strong advocate for using the Passive House standard to help clients achieve goals related to energy efficiency, indoor air quality, comfort and durability.
"Seeing this portfolio of Passive Houses from across the United States and the world shows how Passive House and net-zero energy buildings are not only gaining tremendous momentum, but also being executed across multiple building types and design styles," says Dylan Lamar, Green Hammer Architect and Certified Passive House Consultant. "I'm especially excited to see a couple of our projects recognized as exemplary projects here in the Unites States."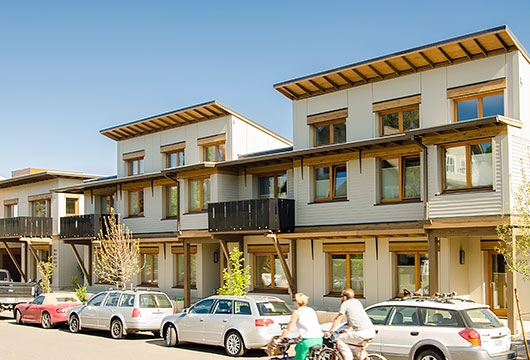 The book concludes with "10 Reasons why the Passive House Standard is the Ideal Foundation for Net Zero Energy Buildings." It was written and edited by Mary James of Low Carbon Productions and produced by Tad Everhart of CertiPHiers Cooperative, in collaboration with NAPHN and the Passive House Institute.
Green Hammer is currently serving as the air-sealing consultant on Rocky Mountain Institute's new headquarters in Basalt, Colorado.