Blog
This is Not Your Typical Crack House
3.5.15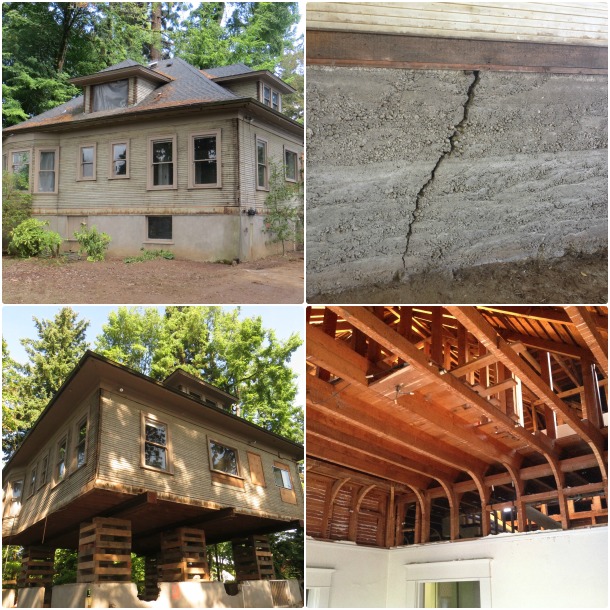 Historic Council Crest foursquare gets a modern facelift
When the "Crack House" was built in Portland's Council Crest neighborhood in 1910, there was a trolley car, an amusement park, an observatory and dance hall nearby. The area was marketed as the "Dreamland of the Northwest."
While the amusement park closed in 1929 and the trolley car is long gone, Council Crest Park — now owned by the City of Portland — still offers dramatic views of Mt St. Helens, Mt Adams and Mt Hood as well as the Columbia and Willamette Rivers and Portland's cityscape. Drawn by location and the incredible design-build opportunity, Megan and Jesse Lea were elated to find a historic foursquare house located on a wooded, half-acre property in the Council Crest neighborhood.
The only problem: The house and property were in "shockingly poor shape," according to Megan. A cracked foundation (hence the project's name), a crumbling outdoor pool and years of construction waste were just some of the challenges facing the property. But for Megan, founded of Rise Over Run, the issues were immediately viewed as unique and exciting opportunities.
A collaborative effort between Rise Over Run, Green Hammer, and Ivon Street Studio, the project team's main goals were to maintain the historic home's aesthetic value while increasing its ecological and economical values.
Vintage meets modern design
Parents of two boys, ages 12 and 9, Megan and Jesse wanted a house where they could set roots. "We set out to create a lifetime house." One of the biggest challenges and opportunities facing the project team was the large crack in the house's foundation. Replacing it required that the house be lifted (check out a video here.) This offered the Leas the opportunity to build an entirely new main floor and increase their living space. The house's interior features simple, yet striking contemporary design.
On the first floor, exposed 105-year-old fir beams are a main design component. As you move upstairs, the original 10-feet-high coved ceilings and fir floors take you back in time. Currently, 6-inch by 6-inch beams from the original first floor structure are being transformed into 6-inch by 12-inch stringers for a new, wood-and-steel stairway to the second floor. All of the original interior single-panel door slabs have been stripped down to expose the old-growth Douglas fir. And decking from the original porch is being incorporated into the interior rooms.
A primary goal of the project was to create a connection to the outdoors by bringing in plenty of natural light. Surrounded by towering Douglas fir trees, this was achieved through floor-to-ceiling energy-efficient windows, exposing the ceiling on the main floor, and building a second-level patio that sits among massive fir trees.
To boost the home's energy performance and make it more comfortable, Green Hammer wrapped the house in various types of rigid insulation. Hydronic radiant floor heating will provide consistent and efficient heat for the first floor, and a Zehnder heat recovery ventilation system will provide optimal indoor air quality throughout the house. Contemporary radiators on the second and third floors are a practical yet intentional marriage of the old and the new. "Green Hammer's expertise in air tightness and balanced ventilation systems design is a crucial component of this project," Megan says.
A true collaboration
"Nothing about this project is typical," Megan says. "Green Hammer has worked hard since the beginning to get the Crack House project off the ground — literally!" Megan says. "They critically evaluate all of their work, which is incredibly valuable."
"And Michelle has always been enthusiastic about bringing my design ideas to life. She synthesized my Google Sketchup drawings, verbal descriptions and Lego models to take the project from the conceptual stage to the engineered construction document stage. She added fantastic design and experience and critical evaluation throughout."
Like Green Hammer, Ivon Street Studio has worked on some very ambitious green building projects, most notably the Full Plane Passive House, a net-zero energy and net-zero water residence in Portland.
While this is Green Hammer and Ivon Street Studio's first collaboration, it likely won't be their last. "Working with Michelle has been wonderful. Her exceptional ability to reconcile both broad and specific visions with a keen eye on the energy efficiency aspects of the house is incredible. These skills are considered an art now, but they will be a critical skill set in the upcoming decades and one that all designers will aspire to have," says Michael Spatzek, Integration Champion for Green Hammer.
The Crack House's anticipated completion date is June 2015. Stay tuned for project details and photos.