Blog
5 Fall Maintenance Tips
9.26.14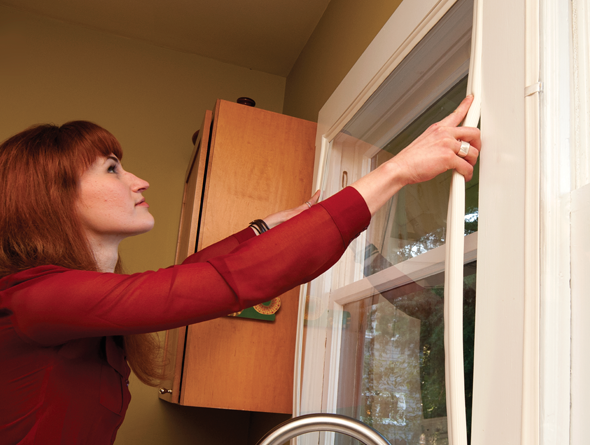 Above, a homeowner installs an indoor window insert made by Indow Windows.
Take advantage of these dry, sunny days to prepare your house for the colder, rainy months ahead. By taking the following steps, you can lower your energy bills, prevent bigger problems down the road, and save money.
Install or re-install storm windows, or invest in Indow Windows. Indow window inserts are designed to deliver energy-saving performance equivalent to double-pane windows and help with sound insulation as well.
Seal gaps and cracks around windows and doors using weatherproof caulking. Weather-strip around your doors and place a draft snake under doors to keep warm air from escaping.
Replace furnace and ventilation filters as they create resistance in the system and use more energy that way. A clean filter is better for your health, better for your mechanical equipment and reduces energy consumption.
Insulate your pipes and hot water tank. Choose the insulation with the highest R-value practical. Installing an insulating blanket around your hot water heater can reduce standby heat loss by 25 to 40 percent, resulting in a 4 to 9 percent savings on your energy bill.
Invest in a programmable thermostat. You can save as much as 10 percent a year on heating and cooling by simply turning your thermostat back 7°-10°F for eight hours a day from its normal setting. (If you have a heat pump, don't do this without a programmable thermostat). The U.S. Department of Energy offers a useful guide. You can go a step further and invest in a home energy monitor, such as the eGauge energy monitoring system. Research shows that people who understand how much electricity their house uses are more likely to make changes that reduce their energy usage.